(flying over the Verrazano-Narrows Bridge)
The Bowery Boys take on the history of New York City's most 'forgotten' borough, from its beginnings as a British outpost during the Revolutionary War to the controversy over that big stinky landfill. And we do it all in exactly the time it takes the Staten Island ferry to take you across the New York harbor! (No really, try it!)
Listen to it for free on iTunes or other podcasting services. Or you can download or listen to it HERE
Take a look at the list of top 100 historical moments in Staten Island history that we mention in our podcast. By the way, here's a peek inside Staten Island Borough Hall, which we mentioned was designed by Carrere & Hastings, best known for the New York Public Library.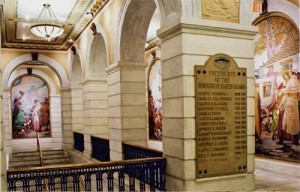 And on to the final part in our Staten Island Snug Harbor series (other parts can be found here):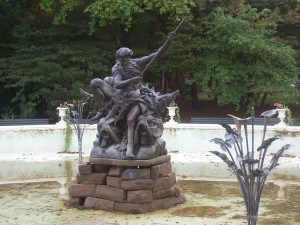 (A Neptune fountain on the front lawn, which would not look out of place in Rome)
Modern Snug Harbor offers the community a wide variety of cultural functions. In fact, the afternoon I was there, Snug Harbor was host to a regional American Girl Fashion Show. I would have taken some photographs of this unusual event — you can get the general idea of what an American Girl Fashion Show is like here — however it might have been a bit odd for a single man with a camera to be walking around taking pictures of young girls with their dolls.
The most dynamic of Snug's new additions is the Staten Island Botanical Garden, sprouting up on the vast Snug Harbor campus in 1977, first as a traditional English garden, but quickly diversifying. I took a stroll last weekend, which was an odd time for a garden. Most of the budding flowers had disappeared, and the leaves were only beginning to change. I would recommend hitting Snug Harbor over the next couple weekends to experience the fall colors.
The Pond Garden was actually overrun with ducks, more than I could count actually, all encircling this curious sculpture: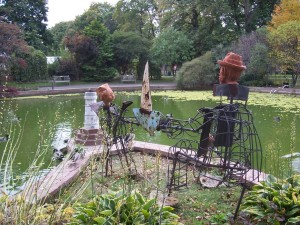 The canopied allie, planted in 1997, is created by the conjoining 120 European hornbeams, creating a disorienting path.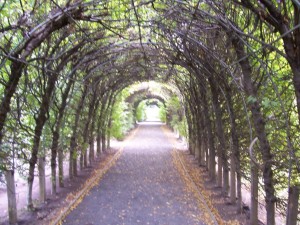 The path leads to the most sobering part of the entire center, the World Trade Center Educational Tribute. Created in 2003 to honor the residents of Staten Island killed in the 9/11 attacks, this small museum features a wall of victims and biographies, some eyeopening photos and artifacts from the tragedy. A very kind member of the fire department awaits inside to answer your questions. Its very intense inside, as you can imagine.

You might need to weave yourself through this hedge maze to take your mind off of some of the disrupting images. Although clearly designed for children — i.e. I didnt exactly get lost through it — it's apparently the only maze of its type in New England. Who knew?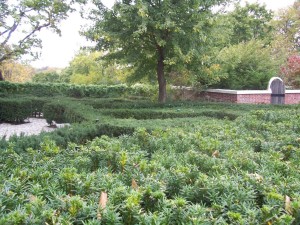 As it was slightly chilly when I strolled around, I obviously welcomed the Carl Grillo Glass House, with its three heated zones for arid, tropical and temperate vegetation, as well as a healthy selection of orchids.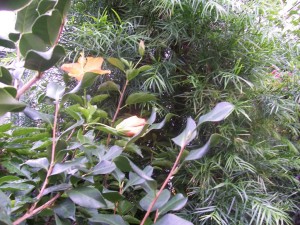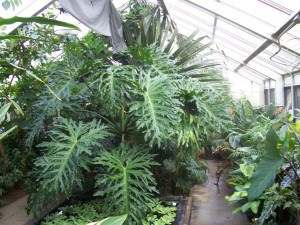 Some of the more modern additions include a childrens museum, guarded by this startling creature: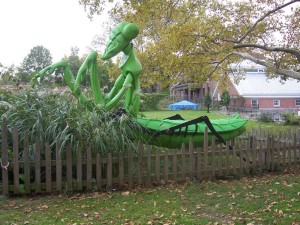 Along the eastern end are a row of identical former homes, one of which serves as the entrance to the newly built Chinese Scholar Garden. (Unfortunately I was not able to enter this on my visit; however you can view a map of its particular grounds.)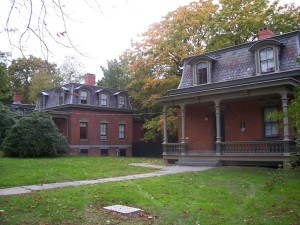 Another of the houses has been converted into a restaurant, Cafe Botanica. Its surreal to eat brunch on a big friendly porch. Inside there's dining by a cozy fireplace: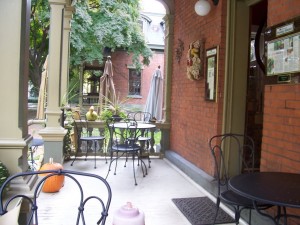 Some parts of Snug Harbor are not currently open, including the healing garden, which is going through an extensive renovation, as is the Italian garden and vineyard. That's right, a virtual vineyard is on the way!
Extra: when leaving Snug Harbor, just take a look in the trees across the street, right in front of the Kill Van Kull. What's this mysterious thatch of boardwalks that runs along the side of the waterfront?