Some New York neighborhoods are simply named for their location on a map (East Village, Midtown). Others are given prefabricated designations (Soho, Dumbo). But a few retain names that link them intimately with their pasts. Other entries in this series can be found here.
The Brooklyn neighborhood of Fort Greene gathers some of the borough's best known riches within its boundaries, including Brooklyn's tallest building the Williamsburgh Savings Bank, the Brooklyn Academy of Music, and the park in which the neighborhood gets its name — Fort Greene Park.
However, if I'm being critical, the neighborhood should probably be called Fort Putnam, not Fort Greene.
As you'd expect, this area was the location of a vital Revolutionary-era fort used by the Americans to defend themselves from encroaching British forces. Shaped like a traditional five-pronged star, the fort was named after Rufus Putnam, a general whose claim to fame would actually come post-war, as the head of the Ohio Company, which purchased and settled the territory of Ohio.
Below: An old map of Fort Putnam and Wallabout Bay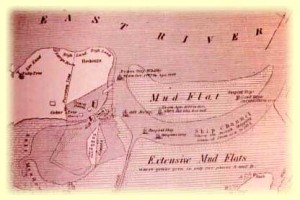 Fort Putnam was one of three forts in close proximity to create a (what would be unsuccessful) defensive barrier. One diamond-shaped fort called Fort Box (named after major Daniel Box) sat smack near the border of today's Cobble Hill. The third fortification — get ready to be confused — was Fort Greene. The first Fort Greene, also a star shaped fortification, sat between Box and Putnam.
This fort was named after major general Nathaniel Greene, who would become one of the war's most successful officers and essentially Washington's most trusted adviser. Greene did oversee the construction of Fort Putnam, so figure in his post-war fame into the equation, and it will not be a surprise to discover that the fort was renamed Fort Greene for its potential use during the War of 1812.
Many old fortifications were refitted in 1812 in case of another British invasion, including the first Fort Greene (now called Fort Masonic). The British did attack Washington D.C. and Baltimore during the War of 1812, but never bothered to make it up to New York harbor this time around.
And just in case you're interested, during the War of 1812, Fort Box was renamed Fort Fireman.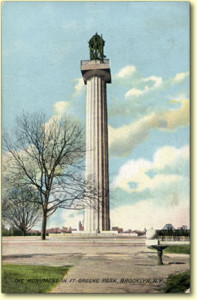 A neighborhood soon developed around Fort Greene, and by 1847 the fortification was replaced by a park — Washington Park — to be later replaced by the rolling, monument bedecked, Olmstead-and-Vaux designed Fort Greene Park in 1864.
Tying the park back to its Revolutionary War past is its crowning monument, the Prison Ship Martyr's Monument(at right), honoring those who died in British prison ships kept not that far from here in Wallabout Bay (that's basically the small bay between the Williamsburg and Manhattan bridges on the Brooklyn side).