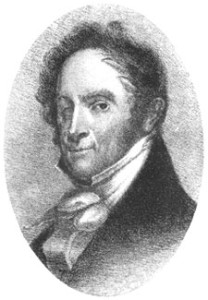 Even though the British kept the burnt, chaotic city of New York as their military base during the Revolutionary War, life did manage to go on for some residents. In fact the population of New York began to swell, as those still loyal to the British — for practical as well as philosophical reasons — flocked to the city, often taking residence in the homes of those who fled.
Eleven year old William Dunlap, born in New Jersey, came to New York in 1777 with his family. An artistic boy with a love of Shakespeare, he became engrossed in the city's ramshackle theater scene, revitalized with the influx of British soldiers in need of entertaining.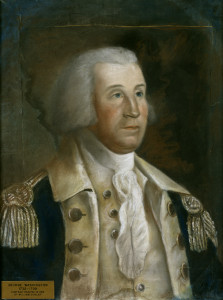 The next year, an accident with a flying piece of firewood left him blind on one eye. Unbelievably this did not stop the lad from developing adroit skills as an artist. By the end of the war, he was even given the opportunity to paint a portrait of George Washington. That portrait, seen to the left, is now property of the U.S. Senate.
But Dunlap's early fascination with the British theater manifested itself in his first play — The Modest Soldier, or Love in New York, produced in 1787.
Dunlap became one of America's first leading playwrights, specializing in English translations of French or German productions. He also managed and owned two of New York's leading first stages, the John Street Theater (15-21 John Street) and later the far tonier Park Playhouse at 25 Park Row. (The John Street location is a Roxy diner now; Park Playhouse is a branch of J&R Music World.)
By the first decades of the 19th Century, however, he returned to his love of painting, where he ultimately achieved national fame. His portrait of Samuel Griffin (below), painted in 1809 currently hangs in the National Gallery of Art.
This renaissance man would best be known, however, for a publication he wrote later in life, with the rather dry title of 'History of the Rise and Progress of the Arts of Design in the United States', essentially the first written history of the arts in the United States.
Not too shabby for a maimed, one-eyed New York boy.