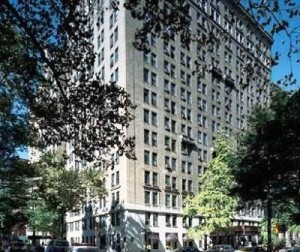 Ian Schrager's refreshed and modernized Gramercy Park Hotel might seem a respite from the shock and scandals of his early years. But as far as I know, nobody ever jumped to their death from the roof of Studio 54.
It happened in June 2002. The legendary Hotel had been controlled by the Weissberg family for over fifty years, retaining its throwback charms in the face of New York's high-end modernization. A few blocks down, the W Union Square had recently moved into the 1911 Guardian Life building. But the Gramercy Park Hotel was buttressed from change by its location near the private park that lends the Weissberg property its name. Its charm was its refusal to change.
Celebrities like Leonardo Dicaprio and Matt Damon still occasionally haunted the piano bar downstairs, a reminder of the days when the Gramercy Park Hotel was the swank stop for most of the bold-faced set.
Two notable homes once stood on that prime bit of real estate, on the northwest corner of Gramercy Park. Edith Wharton was born in a townhouse on this very spot; later, that was torn down and replaced by the lavish home of flamboyant architect Stanford White. In 1924, that too was torn down — less than twenty years after his murder at near-by Madison Square Garden — and replaced with the current occupant, designed by Robert T. Lyons and opened by the brothers Alexander and Leo Bing.
Up at the penthouse, Humphrey Bogart got married to his first wife, Helen Menken, in 1926. Later in the 30s, Babe Ruth spent many an evening at the hotel bar. Although never reaching the notoriety of, say, the Chelsea Hotel, the Gramercy was frequented by rock stars over the years, including Bob Dylan, David Bowie and the Clash.
The Weissbergs had owned the hotel since the 1950s and were in the midst of a post-9/11 slump when in 2002, David Weissberg, the troubled younger brother of the CEO Steven Weissberg, leapt from the hotel roof after an argument with wife. Soon after, the family sold to Schrager, who reopened two years ago after a respectful renovation, hiring Damien Hirst of all people to design many of the interiors.