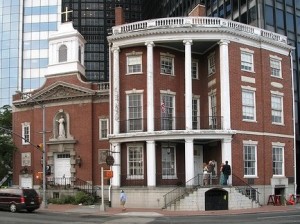 Of all the people who lived in New York City during the Revolutionary War, of all the great Americans who helped shaped history here in the city, [cue deep-voiced announcer] only one can be called America's first U.S.-born saint.
Commuters who zip on and off the Staten Island ferry and tourists gallivanting through Battery Park probably skip past the red brick Federal Style structure across the street, which serves as a church on Sundays and a rare reminder of early history on other days. Frankly, even been an unusually geeky history buff like myself, I have rushed by this building at least a hundred times before realizing what it was.
But it was here that Elizabeth Ann Seton, the charitable Catholic woman who became New York (and America's) first saint, in honored in a shrine whose presence has helped save a spectacularly unique building.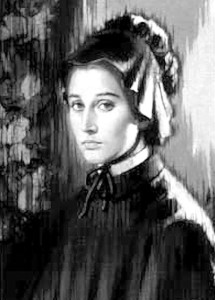 Seton's actually from Staten Island (born August 28, 1774) but lived in the house here for a few years. Whether or not you believe in the holy powers of the sainthood, you can definitely say that Seton's former presence here saved this extraordinarily out-of-place home from the wrecking ball.
This home, originally built in 1794 by wealthy merchant James Watson, once stood with a row of similar Federal Style buildings facing a harbor clogged with shipping vessels.
NYC Architecture has some fantastic photos of the the Watson home's former neighbors. Seriously, how this place somehow remained standing over the years is a testament to the sometimes random choices of the flippant New York real estate world.
Seton, born a protestant, became Catholicized at the former St. Peter's Church on Barclay Street but made her name in Maryland by founding the Sisters of Charity, America's first congregation of nuns. Seton's strong draw to religious fate is attributed to living in New York City during its yellow fever epidemic of the late 19th century.
She was canonized on September 14, 1975. Seton Hall University, among many schools, is named in her honor.
Elizabeth Ann Seton fun facts:
— Like the cast of Gossip Girl, Elizabeth Seton was born into a prominent New York family and hobnobbed with the elite — which, in Revolutionary era New York, was centered at Trinity Church
— Seton and her family lived upstairs at 61 Stone Street, where her husband ran a business into the ground, and they were evicted. Although the original building was destroyed in the Great Fire of 1835, today the space is occupied by the cute Wall Street Inn on one of the most picturesque streets in downtown Manhattan.
— After confirmation, she slapped a Mary in front of her name thus Seton would later sign everything merely with the initials M.E.A.S.
— In her final days, she drank only port wine