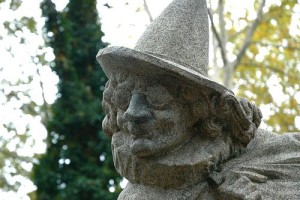 Above: the grotesque face of Mother Goose in Central Park. What did she ever do to deserve her own statue?
While mulling over the list of famous people great and small depicted in Central Park sculpture — Ludwig van Beethoven! Duke Ellington! Alexander Hamilton! — I was reminded of one curious and well-known fact: Not one statue depicts a non-fictional female.
Famous living dogs 1 (Balto), famous living women 0.
The most famous representatives of the XX chromosome are Mother Goose, Alice In Wonderland, and Juliet (of Romeo And). Dancing maidens, random ornamental goddesses and angels (if one can even consider them females, and not androgynes) are strewn throughout the park, but they're essentially decor.
It's not that they're hesitant to honor women here. Jackie Kennedy Onassis had the reservoir named after her in 1984. The relatively obscure child welfare advocate Sophie Irene Loeb has a drinking fountain in her honor. Diana Ross even has a playground!
The age of honoring great souls in marble and bronze is well past, but hardly over. (Lebow, from the post below, was installed in 1994 and Ellington's honor was erected in 1997) If they ever decided to honor a famous New York City woman here, who would it be?
Jane Jacobs definitely needs one (although maybe not in Central Park). Eleanor Roosevelt, the first American woman displayed in a public park, already stands contemplating Riverside Park. Onassis could use a statue as well, but let's not get carried away. Nellie Bly, C.J. Walker, Billie Holiday, Abby Aldrich Rockefeller — all good choices, but not specific to this area.
If you're looking for one woman crucial to today's Central Park, I would like to officially nominate Elizabeth Barlow Rogers, writer, landscape designer and the first president of the Central Park Conservancy.
In the first year of the Conservancy, 1980, Central Park was a shambles, hit by the neglect of the 70s financial crisis and years of massive events in the park which decimated lawns and public places. By the time the infamous attack on the Central Park Jogger took place in 1989, the park had become almost a national landmark to crime.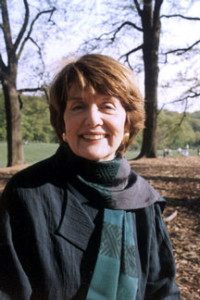 The Conservancy was (and still is) the publicly run lifeboat for the park. Working with mayor Ed Koch and parks commissioner Gordon Davis, Rogers (then Barlow) and the Conservancy began the herculean task of taking back the park, by the mid-80s assuming most of the responsibility. The Conservancy's official site has a landmark-by-landmark rundown of restorations and underscores what a disaster area it was in the 80s. Millions of dollars of public funds were paired with city support to bring the park back to the original Olmstead and Vaux vision.
Rogers stepped down in 1996, having seen the park back to nearly full health, and founded the Cityscape Institute, a private fund-raising organization branching out to help other New York public spaces, including Battery Park and Malcolm X Plaza.
I would go as far as say that today Betsy Rogers is the Queen of Central Park, and of the domain of New York City parks in general. Rogers actually has a small plaque to her honor — in Diana Ross Playground — but why stop there?