Above: Central Park's first recreation was ice skating, almost as soon as the lake was completed in 1858. The Dakota Apartments look like a ski resort.
Come with us to the beginnings of New York's most popular and most ambitious park — from the inkling of an idea to the arduous construction. Learn who got uprooted and find out who the park was REALLY intended for. On the 150th year anniversary of the design of Central Park!
Listen to it for free on iTunes or other podcasting services. Or you can download or listen to it HERE
Frederick Law Olmsted, the brilliant and sometimes testy creator of the Greensward Plan, the basis for Central Park. As America's go-to guy for park creation, Olmsted helped develop thousands of acres of public space in America, including the grounds of the U.S. Capitol, dozens of college campuses, and parks in Atlanta, Boston, Louisville and Detroit.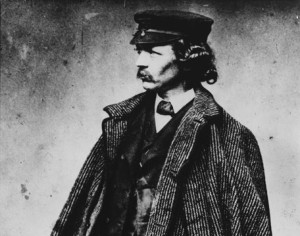 His British partner Calvert Vaux was a genius landscape architect in his own right. He and Olmstead would go on to also create Brooklyn's Prospect Park. He's particularly noted for personally designing Central Park's more beautiful bridges, as well as the fanciful Belvedere Castle.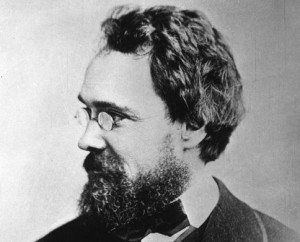 The original design of Central Park, circa 1857, informed by the upper and lower reservoirs and a noticable lack of structures. (Click on map for greater detail.)

From an original sketch of the Greensward plan, by Vaux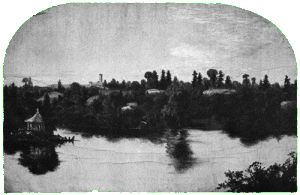 A brilliantly rendered lithograph of the Greensward plan (From an exhibit last month Celebrating Greensward.)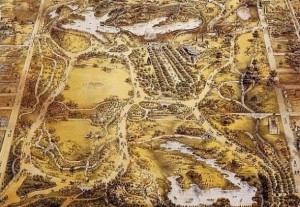 A sketching of some alledged 'squatters' in the lands that would eventually become the park. The reality of their situation was oftentimes far more complex.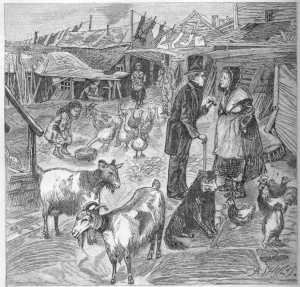 A map of Seneca Village (with Eighth Avenue at top), the small town of African-American property owners that was swept away with the building of the park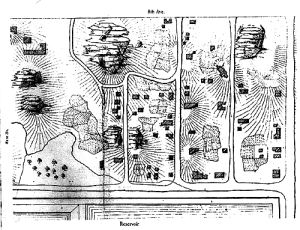 A rare photo of some rather unsightly construction in the park, circa July 1863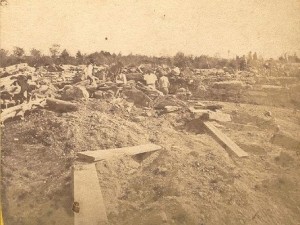 An illustration from 1864 of the Bethesda Terrace (click on the picture for greater detail)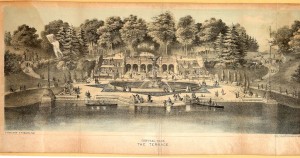 The original plan for Central Park included no monuments, and Olmstead wanted it that way. Still, by 1864, they were already hoisting up a tribute to William Shakespeare. In the picture below, the cornerstone is being laid on the 300th anniversary of Shakesspeare's birthday, April 23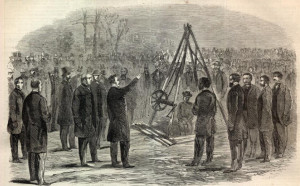 By 1869, the park had been taken over by elite New Yorkers, who could afford to ride through on their carriages. (Click for details of this rich picture.) In the background is the old Arsenal, which tranformed into the Central Park Zoo in later years.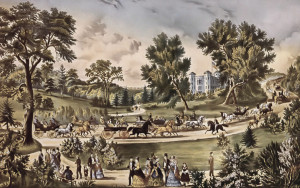 Check out our older podcast on the Central Park Zoo and accompanying photographs.