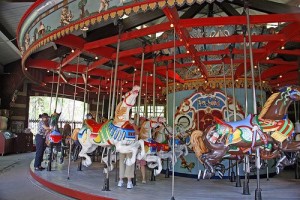 Carousels aren't really for kids anymore. Sure, you won't see many adults truly captivated by the process of mounting a wooden animal and twirling in a circle. But well-preserved models of the famous amusements are nostalgia goldmines; tinkling calliope music and a few flashing light bulbs can sometimes capture a by-gone era more than a multi-million dollar restoration can.
New York City used to have dozens of the swirling entertainments. Today, you can only find them in a few places:
Central Park Carousel (above)
This is perhaps the world's most famous carousel, but it's not the original amusement which debuted in 1871. That carousel was controlled by a blind mule that walked around in circle in a dark, underground pit, as upper-class children paid the rather steep ten cent admission for a chance to ride it. It was replaced by an electric carousel in 1924 and was eventually destroyed in fire.
The carousel that whirrs about here today is actually much older, built in 1908 and entertained children during Coney Island's heyday. Still one of the world's largest carousels, it moved to this location in 1950.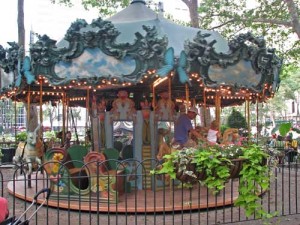 La Carrousel
Given to the park's symmetrical French landscape design, they call the one in Bryant Park Le Carrousel (ooo la la). Despite seeming very rustic, this miniature wedding-cake was only installed in 2001. I can only imagine what a carousel would have seemed like had it been here during Bryant Park's days as a hangout for drug addicts.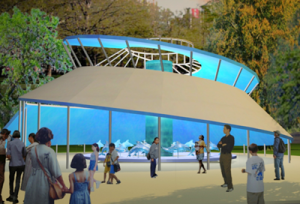 Battery Park SeaGlass
This glittery, futuristic looking thing recalls Battery Park's past as the home of the New York Aquarium, with horses replaced by creatures of the sea. Oh wait. This carousel's not built yet.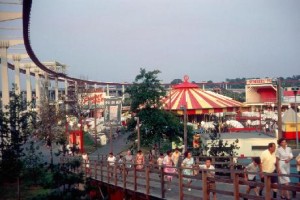 Flushing Meadows-Corona Park 'Carousel In The Park'
Queens' only merry-go-round came here from Coney Island, by way of the New York World's Fair in 1964. Previously, it spent the early part of the century as the official carousel of Stubbman's Beer Garden until the 1950s, where it moved up to the boardwalk next to the parachute jump and became the Steeplechase Carousel. It was transported to the World's Fair Lake Amusement area (pictured above) and was left there, donated to the city, long after the Fair left town.
B & B Carousell
Coney Island was the home of dozens of spectacular carousels and could safely be considered the world's largest assemblage of them. Today there's only one left — the wonderfully misspelled B & B Carousell, which arrived in 1923. But don't go looking for it. After being purchased by the city, the Carousell is currently being refurbished in Ohio for the fancy new Steeplechase Plaza, the city's costly revamp of the Coney Island amusement sector. However its former home still sits, sad and vacant: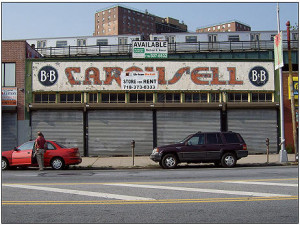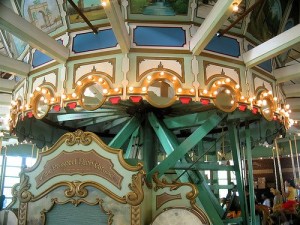 Prospect Park Carousel
Sitting close to the zoo and Leffert's Homestead, this was also acquired from a Coney Island site in 1952, although the park has had merry-go-arounds since its inception. It stopped running altogether in the 1980s due to mechanical failures but was renovated in 1990. The park has a 'horse adoption and grooming' program to keep the carousel in working order.
The Carousel for All Children
This awkwardly named merry-go-round is located at Willowbrook Park in Staten Island's Greenbelt. Nothing too retro about this ride; a modern model built in Ohio, it was installed here at Willowbrook in 1999. However, some of the horses are reproductions of those of Staten Island's very first carousel — a version that entertained on Midland Beach Boardwalk from the mid 1910s that was dismantled in 1957.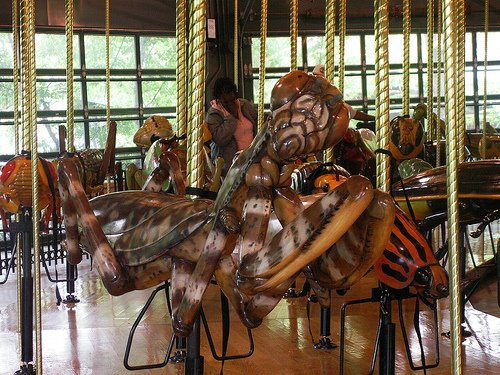 The Bronx Zoo Bug Carousel
The New York area's newest carousel, debuting in 2005, the Bronx Zoo model is certainly the only one of its kind to be comprised entirely of insects.
Jane's Carousel
The strangest carousel in New York is one that unfortunately does not take riders. Jane Walentas, wife of Brooklyn real estate developer David Walentas, keeps a fully restored 1922 carousel (seen below) tucked away in a building on Water Street. Walentas, who purchased the crumbling amusement in 1984 and personally restored it, has been hoping the city would adopt her hobby horse for the expanding Brooklyn Bridge Park. Until then, pop by 56 Water Street to grab a view, if not a ride.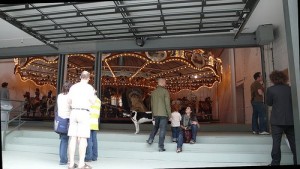 Know of any I might have missed?