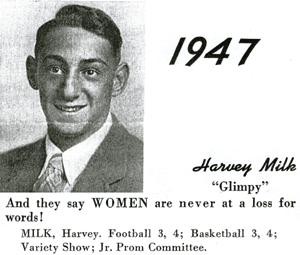 Harvey Milk in high school (Bay Shore, Long Island, to be exact). Picture courtesy of Brother Brian
Judging from the lines at the movie theater, New Yorkers had a little Milk with their turkey over the holiday weekend. It made $1.8 million in five days, almost a quarter of that just from eight New York screens.
Hopefully a few of those film goers were former or current high school students of the institution that bare Milk's name in New York. (Because, let's face it, not every student gets to see a life story of their high school's namesake. Am I right, students of Harry Van Arsdale High School in Brooklyn?)
Harvey Milk, who spent several years in New York's burgeoning gay activist scene before moving to San Francisco, had a unique high school named after him years after his murder in 1978. Founded in 1985 as an outreach program for the Hetrick-Martin Institute, the Harvey Milk High School targets gay and lesbian youth often ostracized from their own schools and frequently in greater risk of dropping out.
This year's enrollment of 96 students over four grades do have a leg up on other schools, with 92% of the student body graduating, according to Hetrick-Martin's website.
While the mere concept made the school a lightening rod for controversy (including within the gay community), things got especially contentious in 2003, when the city's Department of Education took over administrative functions, essentially transforming it into an accredited public school. That brought out attacks by conservative state senators and even that old traveling circus the Fred Phelps family. (James Wagner has some spectacular and disturbing photos of their protest.)
As a New York history buff, I just have to love its location, at 2 Astor Place, one of the centers of city education, with Cooper Union and the former Astor library just a block away. And every New Yorker has been in the basement of this building at least once in their lives, to get a quick trim at the Astor Place Hairstylist.
For a more exhaustive history, New York Magazine wrote a fantastic feature on the school back in 2005, giving further background on the school's very rocky existence.