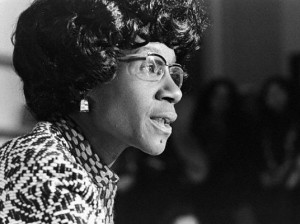 Between Obama's inauguration and Martin Luther King's birthday, it's hard not to look back with appreciation at prior figures in African-American history who got us to this moment. Of all of them, the one I'd like to have dinner with the most, on this eve of American history, would have to be the very first black female U.S. Representative, the belle of Bed-Stuy, and the most energetically attired Congresswoman, perhaps ever — Shirley Chisholm.
For much of her childhood, Chisholm called Bedford-Stuyvesant, Brooklyn home, a restless neighborhood that for most of the last century was considered second only to Harlem as a cultural center for the city's black population.
Chisholm won a seat in the New York state legislature in 1964 but always dreamed to represent Brooklyn on a national level, in the U.S House of Representatives. She finally got her wish to represent her neighborhood when redistricting lines were finally redrawn — finally allowing a black candidate to run (and win) in a largely black community — and won her seat in Congress in 1968. Interestingly, one of her opponents was state senator William C. Thompson, father of our current city comptroller.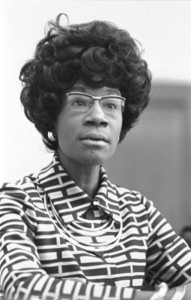 Politically saavy while remaining outspoken, she announced her candidacy for presidency in 1972: "I stand before you today as a candidate for the Democratic nomination for the Presidency of the United States. I am not the candidate of black America, although I am black and proud. I am not the candidate of the women's movement of this country, although I am a woman, and I am equally proud of that. I am not the candidate of any political bosses or special interests. I am the candidate of the people."
She didn't stand a chance. Not in 1972. But back then, even that the gesture was taken seriously by some people — she received 152 delegate votes at the Democratic National Convention — is something to marvel at today. The days when somebody can be a symbolic 'black candidate' or 'woman candidate' on the national stage are most likely past us. It's impossible to observe Obama and the near-success of his closest Democratic competitor Hillary Clinton and not see the path she carefully tread before them.
One of my favorite Chisholm quotes: "I was the first American citizen to be elected to Congress in spite of the double drawbacks of being female and having skin darkened by melanin. When you put it that way, it sounds like a foolish reason for fame. In a just and free society it would be foolish. That I am a national figure because I was the first person in 192 years to be at once a congressman, black and a woman proves, I think, that our society is not yet either just or free."
You can find a few thorough bios on Chisholm all over the internet, but you should first check out the fabulous 2005 documentary on her, named for one of her books — Unbought and Unbossed.