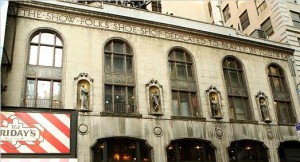 Imagine a Steve Madden shoe store in Times Square erecting a grand new palace to footwear, and atop its banner they decided to welcome its patrons and the throngs of Broadway theater goers passing by with sculptural likenesses of Angela Lansbury, Audra McDonald, Idina Menzel, and Julia Roberts.
That absurd theater dream actually happened — eighty-three years ago. Polish-born Israel Miller was a successful importer of women's shoes from the 1920s well into the late 1960s, an early fashionista who learned his trade fitting ladies of Broadway during its formative years. It was an adroit way of self-promotion; the glamorous Ziegfeld girls wore his shoes home, and what lady doesn't want to look like a glamorous Ziegfeld girl?
By 1911, Israel opened his first shoe store at 1552 Broadway, the heart of the new theater world. Business boomed — echoing the fortunes of Broadway itself — and by 1926 absorbed the storefront next door, 1554 Broadway, to create a midtown footwear oasis for trendy women.
Today, Israel's former shrine to shoes is a TGI Friday's. But the gaudy striped signs of this chain restaurant fail to mask a remarkable glimmer of the building's glory days.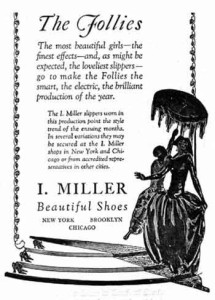 You can still see Miller's slogan etched into the marble — The Show Folks Shoe Shop Dedicated to Beauty in Footwear. Sitting into the walls below are four statues of Broadway muses, four major stars of the stage when they were carved in 1929 — drama icon Ethyl Barrymore, musical muse Marilyn Miller, operetta diva Rosa Ponselle and film's biggest female star Mary Pickford (yes, that's really her, in drag as Little Lord Fauntleroy).
But the building is as much a monument to 20th Century art as it is to the early days of Broadway. The first remarkable fact comes with the man who sculpted these stone beauties: Alexander Sterling Calder, father of the iconic mobile designer.
The second involves Miller, who in the 1950s commissioned a young graphic artist to invent whimsical, fresh shoe designs, radically dusting off his store's by-then dusty reputation. That illustrator, Andy Warhol, would later uses his assembly-line acumen and eye for product design to revolutionize the art world.
For more information about this remarkable landmarked building, check out this string of posted articles.