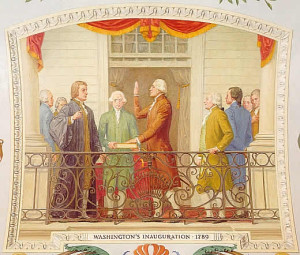 Obama's inauguration next Tuesday will closely adhere to the traditions of many presidents past, but with some serious leanings towards that other Illinois president Abraham Lincoln. But as ostentasious as some his plans seem — even eating foods that Abe might have noshed on — it can't possibly top the 'hope and change' of the original celebration for George Washington, America's first president and the only inauguration ceremony to take place in New York City, on April 30, 1789.
It took George seven entire days to get to New York from his home in Mount Vernon as his procession was met every step of the way with throngs of patriotic crowds and flamboyant celebratory displays. Meanwhile, on Tuesday April 21, Washington's vice president John Adams arrived in the city, two days ahead of the president-elect.
The building which greeted him, the former City Hall building on Wall Street, had been the center of city's government since 1699, when the British used materials from the city's demolished north defense wall to construct it. The heavily remodeled building which now stood in its place, later to be called Federal Hall, was designed by successful city contractor and former Continental Army engineer Pierre Charles L'Enfant. According to David McCullough, "it was the first building in America designed to exalt the national spirit, in what would come to be known as the Federal style." (Sadly, this building was ripped down in 1812; the 'Federal Hall' which stands in the same spot today was built as a customs house in 1842) L'Enfant would later work on the creation of Washington DC from Maryland swampland and be fired from that project — by George Washington.
Below: a look at 'old City Hall' well before the thorough developments up and down Wall Street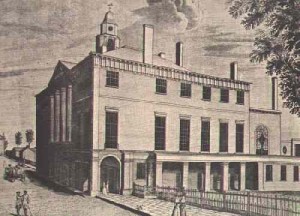 George finally arrived in New York two days later, April 23, via a barge from Elizabeth, New Jersey, and was met at the Wall Street pier by the current mayor of New York James Duane and the state's governor and DeWitt Clinton's uncle George Clinton. From there, he was taken to his new home on Cherry Street (long demolished, around near the Brooklyn Bridge anchorage today) and spent the day greeting dozens of well-wishers. That night, Clinton hosted an elaborate dinner in his honor; the pomp and extravagance by this time were probably getting tiresome to the stately Virginian farmer.
Meanwhile Adams spent the week at Federal Hall in Senate chambers, hashing out such things we take for granted, such as how to even address the new president, until at last they were ready for the ceremony to begin, on April 30. According to Ron Chernow, "Washington rose early, sprinkled powder in his hair, and prepared for his great day." Like some fairy tale detail, Washington left his Cherry Street home at noon in a yellow carriage driven by white horses, legions of soldiers marching proudly behind him. The streets of Manhattan were clogged with people, over ten thousand cramming Broad and Wall streets, as far as the eye could see both ways. Sitting on the balcony of his own home on Wall Street was Washington's closest confidante Alexander Hamilton, certainly reveling in the moment.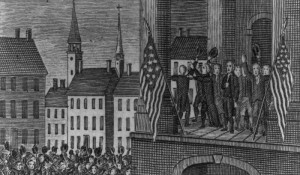 After greeting the Congress inside, Adams led Washington to the second floor balcony along with Robert Livingston, the Chancellor of New York (the highest judicial office in the state) who held out the a bible owned by St. John's Lodge freemasons and delivered the oath of office, probably not loud enough for anybody in the street to actually hear.
Washington, possibly even less audible than Livingston, swore to "faithfully execute the office of President of the United States, and will to the best of my ability, preserve, protect and defend the Constitution of the United States" and then possibly threw in a 'so help me God' for good measure (although there are some doubts).
New Yorkers went crazy then, firing cannons, screaming and waving flags, playing music and dancing in the streets. After returning inside to address the new Congress — by this time with tears in his eyes — Washington and his entourage went up Broadway to receive on invocation at St. Paul's Church, the scrappy survivor of the great fire the destroyed much of the city in 1776. Washington would be a regular here for his entire stay in New York; the pew where he planted himself for two years is still on display there (below).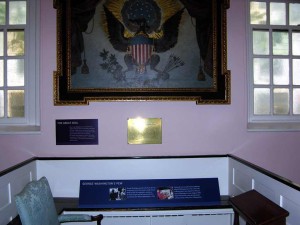 Martha Washington would not arrive in town for another month, but that didn't stop the parties. The official inauguration ball took place a week later, on May 7th, at the Assembly Rooms at 115 Broadway. Although a bit stiff and silent, George was still popular with the ladies and danced "two cotillions and a minuet," often seen with Alexander Hamilton's young bride Eliza. When Martha arrived on May 17, landing at Peck Slip, she was greeted with similarly grand fanfare, and yet another ball was held in her honor.
Believe it or not, there are some remnants of this unique event still in the city. Starting January 20th, the New York Historical Society will exhibit artifacts from that day, including a balustrade saved from old Federal Hall before it was demolished and George's 'inauguration chair'. And down at Federal Hall you can find other artifacts, including Washington's bible, on permanent loan from St. John's Lodge.