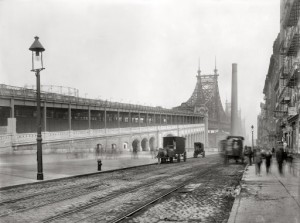 The Queensboro Bridge, otherwise known the 59th Street Bridge, turns 100 years old today. Is it wrong to call it New York's most romantic bridge after the Brooklyn Bridge?
At the time of its construction, it actually went by another name — the Blackwell's Island Bridge, since it hovers above the island that would become known as Roosevelt Island and even provided transportation for island residents via a mid-bridge elevator connected to a trolley system.
Designed by Gustav Lindenthal with help from regular collaborator Henry Hornbostel and Williamsburg Bridge engineer Leffert L. Buck, the new Queensboro would be the first to link Manhattan to Queens, a newly created borough at the time the bridge was first planned in 1902.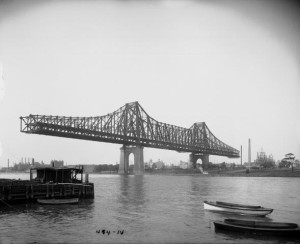 Despite perpetual problems with its cantilever design, a devastating collapse of one span during a windstorm and even some domestic terrorism, the bridge opened for traffic on March 30, 1909.
Its unique design, seemingly graceful and sturdy at once, set it apart from other two bridges created that decade (the latticed Williamsburg and the bolder Manhattan bridges). I think the 59th Street Bridge is one of the great underrated monuments of the Gilded Age, once demeaned as an 'ugly duckling' feeding into a less fashionable borough. History has proven the naysayers wrong; its silhouette has inspired artists, songwriters (Simon & Garfunkel, most notably) and filmmakers like Woody Allen: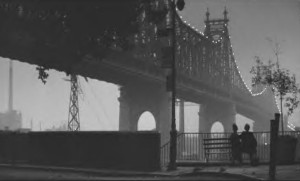 NYC Roads has a complete history of the Queensboro. The New York Times ran a piece yesterday about today's anniversary.