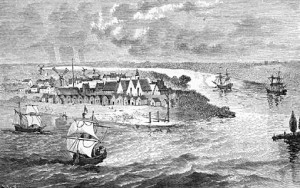 Nothing underscores the harshness of early New Amsterdam more than the notion that the Dutch settlement, which first settled at the tip of Manhattan in 1625, didn't actually have a real trained physician for almost twelve years.
Most likely, in these earliest years, medical emergencies were handled by ship surgeons and non-professionals skilled in a set of rudimentary practices. More practiced professionals eventually came, such as the man who can lay claim to be Manhattan's first practicing physician Johannes La Montagne, a Huguenot who arrived in 1637, settling outside the colony in Haarlem.
Johannes soon became "the only doctor in Manhattan in whom the settlers had any confidence," practicing surprisingly sophisticated (for the day) innovations in Dutch medicine. Like the millions of doctors who would follow in his footsteps, Johannes would soon benefit handsomely from his expertise, gaining a vote in the first official voting council of the new colony under director-general William Kieft. Johannes was also the first of many Manhattan physicians who was also versed in the art networking; within a year he became Kieft's right hand man and an extension of of the director-general's wishes, however misguided.
Unfortunately, this devotion to Kieft and the desires of the Dutch West India Company over the needs of the colonists proved to help undermine the new colony, eventually leading to Kieft's ouster and replacement by Peter Stuyvesant. To his credit, La Montague then won over the steadfast Stuyvesant, who kept him on as a member of his council.
Shockingly, before La Montagne, if one needed actual surgery, one went to the barber. According to one old history, "it might be remarked that a that time barbers were commonly looked upon as surgeons. Any skilled barber was likely to be applied to for surgical procedures."
These 'barber-surgeons', adroit in "performing minor operations", mostly worked on ships and were hardly skilled in the modern advances of 17th century medicine. Eventually La Montagne was able to regulate these barber-surgeons himself, issuing permits to those practicing in the colony and even those who sailed out of New Amsterdam ports.