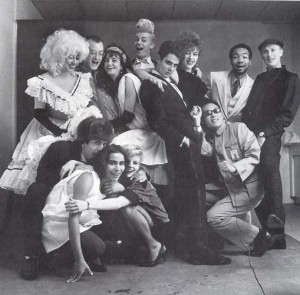 Those crazy kids! The revelers of Club 57 (featuring, among others, Keith Haring), circa 1980
FRIDAY NIGHT FEVER To get you in the mood for the weekend, every other Friday we'll be featuring an old New York nightlife haunt, from the dance halls of 19th Century Bowery, to the massive warehouse clubs of the mid-1990s. Past entries can be found HERE.

I try not to editorialize too much about the places I write about, because like people, the beauty of a neighborhood is in the eye of the beholder. But these young whippersnappers today just do not understand how profoundly awesome St. Mark's Place used to be. *waves fist* There's a Pinkberry there now. Kim's Video is gone. Where's the edge?
Yes, yes, things change. And not everyone would agree anyway; in fact, a traditional New York history buff might look upon anything that happened on this East Village street after 1960 as being pure deterioration. Formerly a part of Peter Stuyvesant's farm, the street transformed from luxury mansions to the heart of German immigrant culture at the turn of the 20th Century. You could say St. Mark's suffers from a ghost limb. The street used to officially extend one block west before dignified Cooper Union moved into the neighborhood. It now starts at Third Avenue and barrels through to end at the foot of Tompkins Square Park on Avenue A.
The street was also one of New York's great epicenters for counter-culture, the home to agitators like Emma Goldman and Leon Trotsky, underground jazz clubs and gay bath houses, avant-garde artists and musicians, and finally, by the late 70s, the stomping grounds of punk youth. It's during this period that our subject, Club 57, enters the story.
Nightlife in the late 70s was epitomized by Studio 54 — high fashion, disco, celebrity and, quite frankly, aristocratic staleness. If disco didn't appeal to you, it might have been the most loathsome place in the universe. As more and more clubs began aping and distorting the Studio 54 formula, what was your average East Village, pink-haired, multiple pierced, non-traditionally beautiful transgendered girl to do?
We've already seen in this column one rebellious strain — the Paradise Garage, which took the big club aesthetic and transformed it into a temple for music worship. When Club 57 opened up in the basement of the Holy Cross Polish National Church at 57 St. Mark's Place, it had another philosophy: why must celebrities have all the fun?
The strange and the beautiful (Photo by Harvey Wang)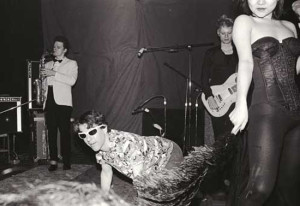 Club 57 was an anti-disco, anti-glitz dingy diamond of the early new wave era, a 'punk do-it-yourself' romper room managed by budding performance artist Ann Magnuson. (She's now an icon of the downtown New York scene. You may remember her from Desperately Seeking Susan.)
According to Ann, she was hired in 1979 by the owner of Irving Plaza whose smaller club here at St. Mark's needed to be spiced up with "'alternative' entertainment" that reflected the clientele of the neighborhood. With some creativity and abandon, Magnuson and her gang of misfits turned the basement into her own "low rent answer to Andy Warhol's Factory," "a center for personal exorcism, devising theme parties (or "enviroteques," as one drug-dealing-conceptual-artist ex-boyfriend liked to call them)," for its outcast, straight, gay, vanguard clientele.
The theme parties would mock serious musical conventions, often requiring silly or even conventional dress done in an ironic fashion — nights like Putt-Putt Reggae night, 'A Night At the Opry', and Elvis Memorial night (where everybody dressed as their distorted version of the King). One event featured club goers sitting around making model planes; another emulated the thrill of lady wrestling.
These probably weren't like the costume parties you're used to. Kenny Scharf: "There were drugs and promiscuity — it was one big orgy family. Sometimes I'd look around and say 'Oh my God! I've had sex with everybody in this room!"
One of Club 57's more successful nights was the Monster Movie Club, every Tuesday, showing "the worst monster movie they could find," according to Drew Straub.
The soundtrack for these absurdist weekly carnival shows were stars of the outer reaches of punk, new wave and rap. The club featured performances by St. Marks resident Klaus Nomi, Fab Five Freddy and John Sex. When it did feature more established names, they were along the lines of the Buzzcocks and the Cramps
Below: the band Certain General plays at Club 57, April 1981

The club soon gained a rowdy reputation. According to Magnuson, her Elvis Memorial night was disrupted when "local juvenile delinquents" caught the air conditioner on fire, sending bizarre Elvis lookalikes spilling into the street. Its reputation was spirited enough to keep away to more 'cultured' avant garde of venues like the Mudd Club. Said Magnuson, "The Mudd Club was more into coolness and being hip and shadowy and mysterious, while Club 57 was about being loud and bright and colorful and kooky and silly — and doing mushrooms."
However one artist who was not detoured was Keith Haring who frequented the club and credits it for inspiring "the beginning of a whole career as the organizer and curator of some really interesting art shows."
Club 57's time was brief; it opened in 1979 and closed four years later. But its influence would spread into many other underground clubs, including the longer lasting Jackie 60. Today's St. Mark's Place could definitely benefit from a little infusion of its wild, retro chaos.
Below: the wonderful Wendy Wild, a fixture of Club 57 (Photo by Ande Whyland)