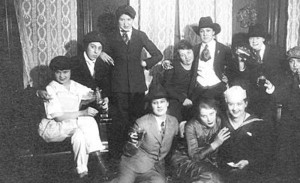 Girls will be girls: lesbians in the 1920s
For the 40th anniversary of the Stonewall Riots, the New York Blade asked me to do a brief article on the history of New York's gay and lesbian scene in the years before the riots.
You can read the article, entitled STONEWALL 40: Our History Before Pride and Rainbow Flags directly at their website. A couple paragraphs are excerpted below:
"The good times stopped rolling in October 1929 with the stock market crash and the beginning of the Great Depression. Forty years before Stonewall, a different kind of gay life emerged in New York City.
Prohibition was abandoned in 1933, but with the introduction of the New York State Liquor Authority, restrictive laws made selling liquor to homosexuals illegal. No longer hidden in a shuffle of illegal speakeasies, the viable gay underworld could have withered if not for an unlikely savior and curse: the mafia."
If you happen to find a print edition, there's a full page map detailing some old New York gay hotspots from as far back as the mid-19th century, including Cercle Hermaphroditis, the Pansy Club and the Slide. A PDF version of the entire issue can be found here.
(Picture above courtesy the History of Gay Bars in New York, a highly recommended website if you're interested in this secret and almost forgotten world of mafia-run, underground establishments.)