Berniece Abbott looks up to the Chelsea, 1936
Arguably New York's least conventional hotel, the Chelsea Hotel (or rather, the Hotel Chelsea) is the one of New York's culture centers, a glamorous, art-filled Tower of Babel for both creativity and debauchery. From Mark Twain to Andy Warhol, it's been both inspiration and accommodation for artistic wonder.
We wind back the clock to the beginnings of the Chelsea neighborhood and to the hotel's early years as one of the city's first cooperative apartment buildings. What made the Chelsea so different? And why are people still fighting over this storied structure today?
___________________________________
As always, click on pictures for a bigger view
Standing Tall The Chelsea Hotel, built in 1883, was originally intended as a cooperative apartment building for wealthy tenants. However, by 1905, the building was turned into a hotel. Throughout its history, the Chelsea accommodated residents staying there for a few days … or a few decades. (Photograph by the the Wurtz brothers)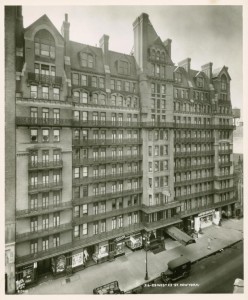 ___________________________________

Old Chelsea Mansion The neighborhood of Chelsea was carved from the estate of Captain Thomas Clarke and his descendants. Clarke named his large, hilly estate after the still-operating Royal Chelsea Hospital, a respite for retired British soldiers. The Clarke mansion home sat approximately where the intersection of 23rd and 9th Avenue is today — just down the street from the Hotel Chelsea.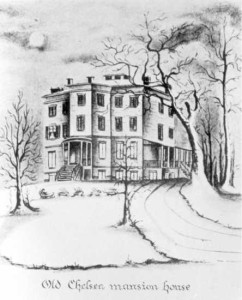 ___________________________________

Absolutely Fireproof Many of the Chelsea's sturdy amenities would come in handy when it began hosting rowdy musicians and artists. The buildings fireproofs claims would be put to the test when certain residents (Edie Sedgwick, Sid Vicious, to name a couple) would set fire to their rooms. And the building's soundproof walls would be of service when rock bands stayed here.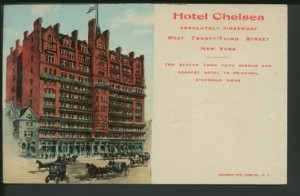 ___________________________________

Bird Of A Feather William Burroughs and Andy Warhol in a room at the Chelsea, from a scene in Abel Ferrera's documentary Chelsea On The Rocks, a film hopefully seeing the light of day very soon.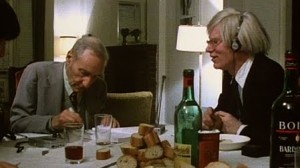 ___________________________________

Tragedy 1978 No resident of the Chelsea was as infamous as Sex Pistols bassist Sid Vicious and his girlfriend Nancy Spungen, a raucous tragic pair who literally tore up the hotel. Vicious woke from a drug stupor in his room on October 12, 1978 to find his girlfriend stabbed to death. Sid would eventually die of a drug overdose the next year. Below, her body is carried from the hotel.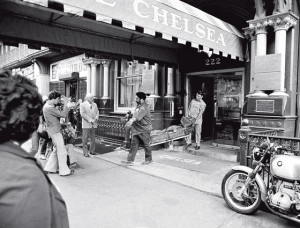 ___________________________________

Below: A clip from Andy Warhol's Chelsea Girls, filmed in various rooms at the hotel.
Wanna Know More? Your one-stop source for Chelsea Hotel history and recollection is Ed Hamilton's very fascinating, very opinionated Living With Legends: Hotel Chelsea blog and companion book Legends of the Chelsea Hotel.