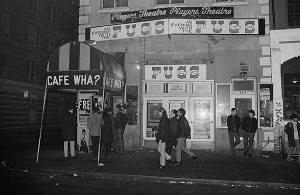 FRIDAY NIGHT FEVER To get you in the mood for the weekend, every other Friday we'll be featuring an old New York nightlife haunt, from the dance halls of 19th Century Bowery, to the massive warehouse clubs of the mid-1990s. Past entries can be found here.
LOCATION Cafe Wha?
115 Macdougal St, at Minetta Lane
Occasionally, the usual types actually did pack into Cafe Wha? — the intellectuals, the progressive, heavy-lidded types. Some of them actually were true beatniks — Sartre, cigarettes and turtlenecks — although most were just regular college students, some hippie precursors mixed among them, or uptowners who were looking to see these so-called beatniks in their natural habitat. They all filtered into this plain, dark room on Macdougal Street, where revolutions were hatched nightly from a guitar or a harmonica.
Cafe Wha?, at 115 MacDougal Street, helped create and then outlived New York's pre-Vietnam War folk era, providing a stage for performers who would literally make music history.
Wha? was one in a string of Village 'baskethouses' as they were sometimes called, small music venues where a small wicker basket would be passed around for tips during performances. The music acts didn't get paid much; there were dozons of aspiring Woody Guthries in the Village, much of the talent interchangable. Performers would traipse up and down the street, playing several times in different places, sometimes on the street.
Many would stumble into Cafe Wha?'s unassuming, sometimes dingy doorway. The club was owned by Manny Roth, who would open here in the late 1950s. He would own a few nightclubs and lounges over time, including another folk venue Cock 'N Bull (later to become The Bitter End).
Roth's lineage would create a different source of musical inspiration in the form of his nephew David Lee Roth, to become the flamboyant frontman of Van Halen. Young David would frequently accompany Manny into the club and would often be left with whatever singer happened to be performing at the time (including, a few times, with Richie Havens.) Little David, destined for tight pants, never stood a chance.
Many of folk's most talented stars played the small Wha? stage, entertaining both bohemian and uptown audiences eager for new talent. Hilly Kristal, later the owner of New York's most influential rock club CBGBs, was a burgeoning folk singer who frequently performed here. "Those were fun years, the beatnik era," he said.
But the kernal of Wha?'s reputation lay with a wan, undistinguished looking boy named Bob Dylan. As the story goes, Cafe Wha? was the very first venue Dylan ever played in New York City, arriving there on his very first day in town on January 24, 1961. He auditioned for Roth, who hired Dylan to play behind one of Roth's stars Fred Neil, a folkster who would later write songs for Harry Nilsson.
Dylan would only perform as a solo artist at Cafe Wha? only in the afternoons and would perform for free. He would play for bigger audiences at night, but only as backup for Neil.
"I worked for Manny all afternoons, from twelve to eight," Dylan recalls. "There was constantly something happening on stage. You never really did get popular there, 'cause people never knew who you were….It was just a nonstop flow of people, usually they were tourists who were looking for beatniks in the Village."
Below: Dylan with Neil and singer Karen Dalton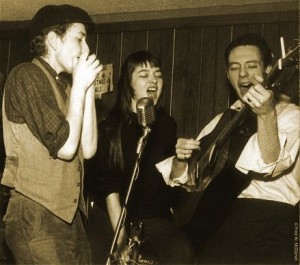 According to a biography by Bob Spitz, the odd, gangly Dylan instantly set himself apart. "That voice! Nobody had ever heard anything like it before….Bob had perfected the tonsilly scranch, a dry, throaty tenor 'with all the husk and bark left on the notes', which, if you weren't actually looking at him, sounded like a middle-age hillbilly with emphysema."
Certainly he was perceived by some as a parody of a folk singer: raggy clothing, offbeat and sincere. He would eventually distinguish himself as a solo star at other venues — most notably over at Gerde's Folk City, a venue which would launch him to fame.
But in February 1961, he was just second-fiddle to Neil, who wasn't the only notable headliner on the Wha? stage. Noel Stookey had a successful stand-up routine at the club long before he took the stage name Paul which fit nicely between the names Peter and Mary. However the performer that interests me most was another folk singer who would more lucratively abandon music altogether — Lou Gossett Jr. As in Officer and a Gentleman Lou Gossett Jr., quite a talented and well-known folk musician in the early 1960s.
Like a handful of other Village music spots, Cafe Wha? helped create the soundtrack for New York counterculture, enriched the Village's rich reputation for the different. By the mid-60s, Wha? would diversify its musical acts. For instance, a New York Times article from 1965 a 'Beatles backlash' emanating from the Cafe What basement in the form of 'modern blues'.
At the suggestion of Richie Havens (who also got his start at Wha?), a young guitar player Jimi Hendrix auditioned for Roth and got a three-month gig here in the summer of 1966, performing with a group called the Blue Flames. Hendrix and the Flames performed funkified covers of popular songs, certainly the most dynamic house band one can possibly imagine. Curiously, Hendrix and Dylan, the two great stars of Wha?, met only once, and it was at another Village bar, Kettle of Fish.
Around this time another rock band The Castiles would frequently perform here. The group would dissolve after a couple years, and its lead singer, Bruce Springsteen, would continue his slow climb to fame.
Roth would continue to operate the club for two more decades, presenting a host of entertainers from comedians like Lenny Bruce and Richard Pryor to definitely-not-folk-acts like Kool and the Gang.
Roth sold Cafe Wha? in 1988 but would go on to own other performance venues like the West End Gate. Cafe Wha? is open today under different management, hosting a roster of rock and soul artists. I'm not sure however if they still pass about a basket.