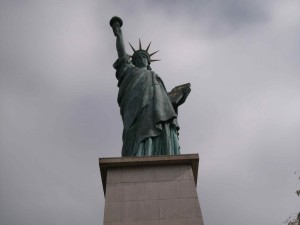 From this angle, she looks about the same, but looks can be deceiving (see below).
I promise, we're still doing podcasts! We'll be back on the twice-a-month schedule starting next week. In the meantime, I've actually been away on vacation the past week and a half to another fabulous city and the birthplace of the Statue of Liberty — Paris. The New York history buff in me naturally led to a trip to find the smaller sister of the Lady Liberty. She actually has two of them.
The best known rendition, the Liberty under Pont de Grenelle in the Seine River, is a lonely creature. She overlooks a famous body of water, like the original; however, she sits at the western end of ÃŽle des Cygnes, a quiet island sliver with virtually no foot traffic. A person who lived in a tent under the bridge sat many meters away.
At 37 feet tall, she's four times smaller than the original, a gift of American expatriates given to the city in November 1889 as a thanks for the original. At first she faced the Eiffel Tower, a far more iconic view that the one she enjoys today.
The second Paris Liberty is even smaller — a bronze model located in Luxembourg Garden that was actually used by Frédéric Bartholdi in his creation of the United States version. She may be the smallest, but technically she's also the oldest, created in 1870.
For details on Bartholdi, the statue, and the absurd struggle to get it funded, listen to one of our early podcast on the subject. Or read all about many of her other knockoffs here.