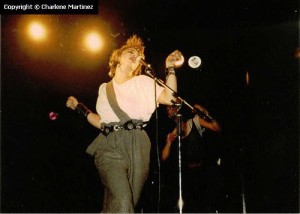 And you can dance: Madge performs Borderline at Danceteria Photograph by Charlene Martinez
FRIDAY NIGHT FEVER To get you in the mood for the weekend, every other Friday we'll be featuring an old New York nightlife haunt, from the dance halls of 19th Century Bowery, to the massive warehouse clubs of the mid-1990s. Past entries can be found here.
Scrappy nineteen-year-old Michigan teen Madonna Louise Ciccone arrived in New York the same year as Studio 54 — 1977.
"It was the first time I'd ever taken a plane, the first time I'd ever gotten a taxi cab. I came here with $35 in my pocket. It was the bravest thing I'd ever done," she says (in a UK Mirror interview) with her usual reserve.
She dabbled in contemporary dance with Alvin Ailey, becames employed in a potentially lucrative career at Dunkin Donuts, filmed a provocative movie, and soon began dabbling in the nightclub circuit with the rock groups Breakfast Club and Emmy. She began making dance records of her own with help from her boyfriend Stephen Bray and by spring 1982 had herself a recording contract with Sire Records.
On her way to superstardom, she performed all over town during the early 1980s — the Roxy, the Pyramid, the Mudd Club — but perhaps no club in the city was more influential to her career than Danceteria. Although this staple of 80s New York nightlife moved all over town during its tenure, its most recognized location is the one which saw the birth of Madonna's career — a four-story building at 30 West 21st Street (now a swank condo!).
"I met her at Danceteria when she was sitting on [a friend's] lap. She was really, really foxy. She was really glamorous," says Thurston Moore of Sonic Youth.
She was also apparently such a fixture of the club that the resident DJ, Mark Kamins, even dated the singer. (That's getting your foot in the door.) Says Kamins: "Madonna was a regular at Danceteria. She had great style and had to be the center of attraction. She always hung out in the booth, one day she gave me a demo to play." That demo, for the song 'Everybody', eventually got her signed to a major label.
Below: Madonna debuts her future hit 'Everybody' on the stage at Danceteria

But Madonna was certainly not the only future music star to use the club to her advantage. Many started as routine employees. LL Cool J was the elevator operator, and members of the Beastie Boys were busboys. (Both LL and the Beasties are pictured below at the club, photo by Dorothy Low) Keith Haring worked at coat check, while both Karen Finley and Sade was briefly employed behind the bar.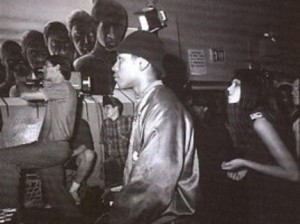 Everybody — everybody hip— eventually showed up on the dance floor of Danceteria. The after-hours club originally opened in 1980 at West 39th Street, a project of club impressario Rudolf Pieper and promoter Jim Fouratt. "We put it together for $25,000. We rented everything," Pieper said in a New York Magazine interview.
The club, dramatically put, was "a dreamworld of mysterious souls, sidelong glances, and the perfume of ruin." (No, I didn't write that, they did.) Its admission policy was reputedly tight and exclusionary, but not so elitist that a trendy and fashionable nobody couldn't pass muster; only the most fabulous got to experience this stark, winding little club.
However problems with the law — the neighborhood, after all, the Tenderloin — forced the club to move. Several times it seems. In 1982, it eventually landed at the 21st Street location, adding John Argento as promoter. Believe it or not, Argento would later spin off Danceteria to another location — the Hamptons.
You never knew what you were getting on any random night. Russell Simmons hosted talent showcaseson some Wednesdays, while other days might feature more eclectic nights with Philip Glass or Diamandas Galas. Ann Magnuson might be hosting a barbeque, or you might stumble into a 'rubber and leather' party.
With new wave music as its soundtrack, Danceteria seemed to dip its toes in both the East Village art scene and the Studio 54-style celebrity, employing video installations (Kamins claims they were the first to employ videos) and go-go dancers to entertain the throngs of fashionistas, artists and wanna-bes.
Like so many buzzkills, Danceteria lost its lease at 21st Street and eventually closed in 1986. It appears that another Danceteria briefly opened in the 1990s, at 29 East 29th St. (between Madison and Park).
But while we have no more Danceterias — we hardly have any dancing at all — the club provided the world (and its most famous material ingenue) with a glamorous film moment: this scene from 'Desperate Seeking Susan'
NOTE: I know I just touched on some of Danceteria's greatest moments and its most fascinating characters. (I didn't even mention Johnny Dynell, Anita Sarko, and Michael Alig!) Please add your memories below and if you have corrections to any information, I'd be grateful. With the type of press that Danceteria received in the early 80s, its difficult to seperate truth from the hyperbole!

You can start your Danceteria education at Danceteria.com or flipping through this wonderful selection of flyers.