Today is primary election day in New York! Locals, have you voted yet? Current mayor Michael Bloomberg is not on the ballot yet — he'll be on the November ballot — but primary races for City Comptroller, Public Advocate, some city council seats, and the Democratic candidate for mayor are included on today's ballot
In the past, New Yorkers have celebrated election days with some behaviors and traditions that are no longer with us:
1) Lights and drama at the Flatiron Building
I'm unsure of the date of this postcard, however it's from a time when the Flatiron was one of the city's tallest buildings. Today we have the Empire State Building to help us celebrate in lights — but the apparent tradition of a swirling spotlight has alas not been replicated.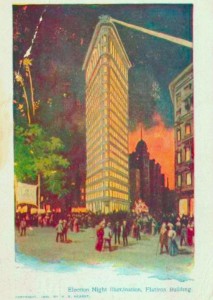 2) Torchlight Parades
This image, of one such procession, gathered supporters of George McClellen who tried to wrest the presidency from Abraham Lincoln in 1864. I'll bet the swillholes of the Bowery were hoppin' that night.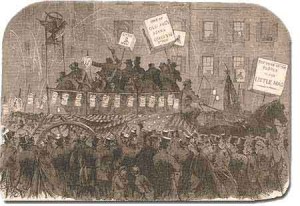 3) Bonfire celebrations on Canal Street
In this illustration from Frank Leslie's magazine, election victory in the 1870s often spawned open fires in the street. Today, candidates are more likely to have a few drinks at the W Hotel than light open blazes on a busy thoroughfare. (Pic courtesy NYPL)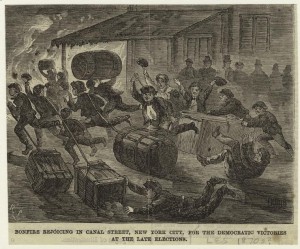 4) Wholesale violence
Repeat voting, destruction to polling places and destruction of unfavorable ballots were common practices during more contested elections of the 19th century. The Bowery Boys and other gangs were recruited to create disruption for political parties and create a hostile environment for potential voters. The image below, from the Illustrated London news, lays out the scene during the Lincoln/McClellan faceoff in 1864.
Today, the most hostility you might face are from children fighting past voters to get to their classrooms. (Pic courtesy NYPL)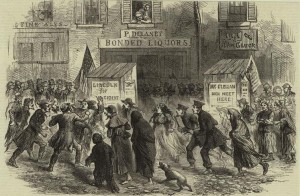 5) Aligning mayoral candidates with World War I emperors
This cartoon from the New York Times implies that Kaiser Wilhelm II seemingly supports Democrat John F. Hylan and the Socialist candidate Morris Hillquist. Shudder if that were the case; Hylan ended up winning that election and held the job of mayor for eight years.
Of course, over-dramatic political cartoons and tying leaders to totalitarian regimes is still rather run of the mill in today's politics. (Pic courtesy Wikimedia)