The New York Rangers , the city's ice hockey hope since 1926, began their season on Friday, losing one that night and recovering on Saturday versus Ottowa Senators.
Okay, so I'm not going to pretend that I've ever been a hockey fan before this year. However, geek alert, I have this uncanny ability to trick myself into liking something by studying and absorbing its history. To see that bloody ice, those flying sticks, that vulgar degree of unsportsman-like agitation! When Sean Avery, who will debut this week after an injury, punches somebody in the face, it's part of a proud tradition that harkens back generations.
While the Rangers often play fourth-fiddle in the pantheon of high-profile New York sports teams, they've been part of the city for decades, playing their first game on November 16, 1926, against the Montreal Maroons. They beat the Maroons — and almost everybody else, winning the American Division title (though losing the Stanley Cup) their very first year.
Believe it or not, however, the Rangers were not even New York's first hockey team. Enter the far less successful but not forgotten New York Americans, one of the few U.S. sports teams to be owned by a Prohibition bootlegger.
Ice hockey was invented in Canada, flourishing and expanding there, but before the 20th century began spilling over the border to the United States and into New York, with amateur leagues in Manhattan and Brooklyn, and even a Columbia University team. Hockey's first home in New York was St. Nicholas Rink, a sports venue at 69 West 66th Street (at Columbus Avenue) which opened in 1896 as an exclusive site for ice sports until a more popular sport — boxing — forced it out in 1920.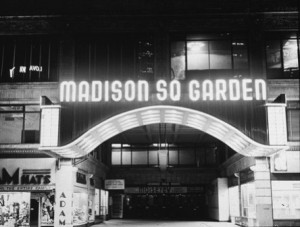 Which was fine for ice hockey enthusiasts, because the sport was moving on to a brand new venue — Madison Square Garden. In this case, we're not talking about the Stanford White classic which actually sat in Madison Square or the current MSG at 34th street above Penn Station. No, from the years 1925-1968, another building held the name, located at 50th Street and 8th Avenue. Today, Worldwide Plaza stands in its place.
This MSG, owned by the flamboyant promoter Tex Rickard, would famously stake its reputation on boxing and circuses. But in its first year, Rickard agreed to open the floor to brand new ice hockey team.
The Canadian National Hockey League was a granting franchise licenses to various American cities. The franchise promoter Thomas Duggan saved one for himself and set his sights for a New York team. His only setback was money. This being 1925, smack in the heart of Prohibition, it's no surprise he turned to famous bootlegger and mobster Bill Dwyer for assistance. Yes, New York's first ice hockey team was funded by one of the city's most notorious gangsters.
By 1925, Dwyer had even spent some time in jail for bribing the Coast Guard. He looked at funding sports teams as a vie for 'legitimate' business, although it was his amassed wealth by illicit gains that was actually used to sculpt the new team. When members of an Ontario team the Hamilton Tigers revolted against their management, Duggan simply bought out all the players, moved them to New York and — certainly thumbing their noses at their old Canadian owners — called them the New York Americans.
The Americans, garbed in patriotic colors, played their first game on December 15th, 1925, against the Montreal Canadiens. At least in 1925, Americans were no match in the game of hockey against Canadians, and they lost 3-1. And would continue to lose, from 1925 to 1941, once or twice making division playoffs but mostly placing last.
But New Yorkers, at least that first year, were intrigued. Attendance was so strong that Rickard, jealous of Duggan and Dwyer's success, wanted his own team, one in which he didn't have to split the profits. And so, the very next year, on the very same ice as the Americans, the New York Rangers made their debut. They were an even bigger hit because they actually won games, partially due to being placed in a division with fewer seasoned Canadian teams.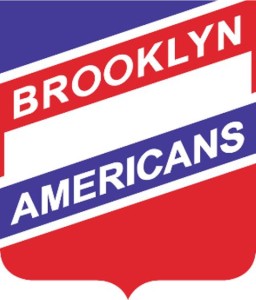 By 1941, the Americans were overshadowed, utter defeated and out of steam. A brief ploy to rebrand the team as the Brooklyn Americans — they never actually played any matches in Brooklyn — only delayed the inevitable, and the team's franchise was bitterly not renewed.
Most Rangers fans are probably not too familiar with the Americans' record, but they are familiar with Rangers 'curse' placed upon them by then-Americans coach Red Dutton, who supposedly declared that their rivals would never win another Stanley Cup while Red was still alive. It worked. The Rangers would not take home the cup until 1994, seven years after Red's death. Talk about holding a grudge!