Historic Gay Street, 1940: a tiny little lane literally crammed with ghosts
It's time for our third annual 'ghost stories' episode, our mix of historical facts and spooky legends from the annals of New York's past.
For this round of scary tales, we visit a famous 19th century townhouse haunted by a lonely spinster, a West Village speakeasy with some guests who still haven't gone home, and the site of a former restaurant that might be possessed with the spirit of a famous folk singer.
ALSO: we go back all the way to New Amsterdam for an old legend involving Peter Stuyvesant, a turbulent river, and the Devil himself!
PODCAST Download this show it for FREE on iTunes or other podcasting services. Click this link to download it directly from our satellite site. Or click below to listen here:
The Bowery Boys: Haunted Tales of New York
___________________________________
As always, click on pictures for a bigger view
POSSESSIONS: The former home of Seabury Tredwell at 29 E. 4th Street, now billed as the Merchant's House, is one of New York's most famous haunted houses, alledgedly still home to his daughter Gertrude. The house is a rare 'trapped in amber' experience, with family possessions that have never left the house since the family moved there in 1835.
Photo from 1936 by Berniece Abbott, but really, the house looks exactly the same: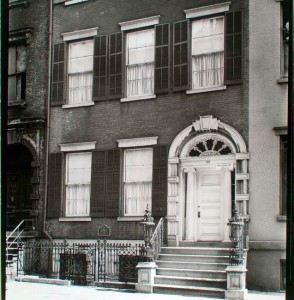 Click here for more information on the Merchant's House Museum's October Halloween plans, which include funereal decoration, a coffin procession to nearby New New York City Marble Cemetery, and candlelight tours: Merchant's House
___________________________________
THE PARTY NEVER ENDS: 12 Gay Street, once a horse stable, housed Mayor Jimmy Walker's mistress Betty Compton and the creator of Howdy Doody. However, it was a former speakeasy in the basement that's given the building a rather ghostly entourage of spooks and apparitions, including the cloak-wearing Gay Street Phantom. Do deceased flappers and dead drunks still haunt this quiet little street?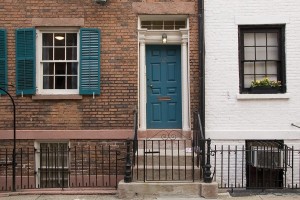 HORROR: This famous puppet was born in the location of a former speakeasy. Might it too have been possessed with its former revelers?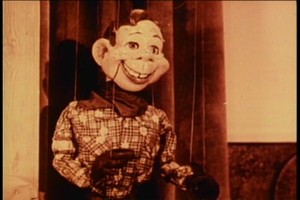 ___________________________________
WHAT LIES BENEATH: The rushing waters of Spuyten Duyvil Creek, linking the Harlem River to the Hudson River, have spawned many legends since the Dutch arrived. Does its unusual name hide a secret of something that lives underneath the turbulent waters? (Illustration courtesy NYPL)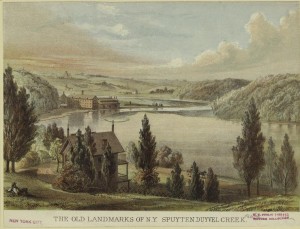 DOOMED: Anthony Van Corlaer, trumpeter and sentry assigned by Peter Stuvesant to warn rural Dutch settlers of impending attack, met a watery end at the hand of the Devil himself, according to legend. Below: from the painting Antony Van Corlear Brought Into the Presence of Peter Stuyvesant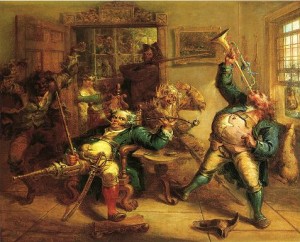 ___________________________________
IN LIMBO: The tortured folk singer Phil Ochs killed himself in Far Rockaway, but is his spirit still haunting a former restaurant in SoHo?