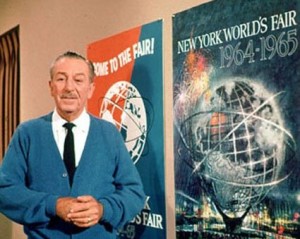 Yesterday's news about a new Times Square flagship store for Disney had me wondering what influence if any New York had on the career of Walt Disney, arguably one of the most successful men in history to make his name on the West Coast. Come to find out, the world might never have had Mickey Mouse and the rest without one New Yorker in particular.
Here's seven of the most significant New York moments for Walt Disney and the Disney empire:
1) Disney Discovered
Small-time Kansas City animator Walt Disney spent much of 1923 writing New York film distributor Margaret Winkler, hoping she'd take a look at a new film he was creating, Alice's Wonderland — a coy, self-reflexive mix of animation and live-action. He was lucky; Winkler was looking to put pressure on her biggest star Pat Sullivan (creator of Felix The Cat), and Disney's strange little picture did the trick. She signed him and brother Roy, but retained editing control on the early 'Alice Comedies', inserting a Felix the Cat-like character named Julius, the first of hundreds of human-like animals in Disney films.
Winkler, by the way, was the first female film distributor in the United States and briefly one of the most powerful women in silent film — at a time when the film industry was centered on the east coast.
Below:one of the Alice Comedies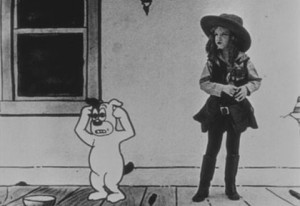 2) Steamboat Willie
Disney would return to New York with his revolutionary 'Steamboat Willie', the first sound appearance of Mickey Mouse. On November 18, 1928, it quietly made its world premiere at the Colony Theatre (Broadway and 53rd Street, still around today as the Broadway Theatre). Sitting in the audience for everyone of its two-week performances was Walt himself.
Steamboat Willie was the opener on a bill of entertainment that also featured the film Gang War, starring Mary Pickford's brother Jack, an alcoholic mess who once dated Olive Thomas who allegedly haunts the New Amsterdam Theatre. 'Gang War' would be his final movie role.
3) Snow White and The Seven Dwarfs
Almost ten years later, Disney's first feature-length animated spectacle would have a far more grandiose reception — a five-week run at Radio City Music Hall starting in January 1938. The New York Times exclaimed, "They're gay and friendly and pleasant, all of them, and so is the picture. Thank you very much, Mr. Disney, and come again soon." As legend goes, the upholstery of several Radio City Music Hall chairs had to be replaced, as children wet their pants as the first sight of the Wicked Witch.
Strangely, the film was later paired with an ice-themed short, Ski Flight, because during winter there's nothing people like to do more than sit and watch ski movies.

4) Fantasia
Disney's trippy concept film closed the loop; as one of Disney's first self-distributed films, it premiered November 13, 1940 at the same theatre that had once shown Steamboat Willie, only this time it was called the Broadway Theatre. (Today it's a mainstream musical stage featuring Shrek the Musical).)
There was more drama behind the screen than in front. One scene ("Ave Maria") had to be redeveloped, flown to New York and was literally spliced in with four hours to go before showtime.
5) The Worlds Fair 1964-65
The Worlds Fair of 1939 had clearly had its influences on Disney's future theme parks. So it was only natural to bring him in as a consultant for Robert Moses' crowning concrete spectacle of 1964. Disney Studios brought animatronic dinosaurs to life in the "Magic Skyway" for the Ford Motor Company pavilion (see picture below), a talking Abraham Lincoln, and of course 'It's A Small World'. Many more pictures of Walt behind the scenes at Disney and More.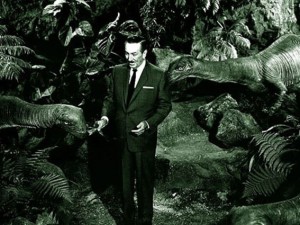 6) Disney rewrites Broadway
Less than thirty years after Walt's death, the company enters — and promptly conquers — a new frontier: Broadway. Beauty And The Beast became its first permanent Broadway production when it opened in April 18, 1994. The swirling gala of dancing utensils and candelabras won the Tony for Best Musical, fueling a run that would make it the sixth longest running show in Broadway history and opening the flood gates of Disney-themed shows.
By the time 'Beauty and the Beast' closed in 2007, Disney had changed the rules of the Broadway musical and the actual physical makeup of 42nd Street itself, leading to the sanitation (i.e. 'Disney-fication') of the once-seedy boulevard
7) And hits Fifth Avenue, too
The invasion wasn't just on popular entertainment, but on the heart of New York retail. The first Disney store opened on Fifth Avenue on May 22, 1996. Ushered in by mayor Rudy Giuliani and Disney CEO Michael D. Eisner, thousands of shoppers flocked to the retailer, at the time setting the record for single-day sales at a Disney store. That's an awful lot of mouse-eared Statue of Libertys.
The company just announced that this 'World of Disney' location, at 55th Street, would be permanently closing next year, to make way for Disney's Time Square plans.
I should end by adding that when Disney moved in during the 1990s, it had kicked out a New York City institution — the famous French restaurant La Côte Basque, a "high-society temple" and favorite of Jacqueline Kennedy Onassis. The eatery moved around the corner but only lasted a few more years.