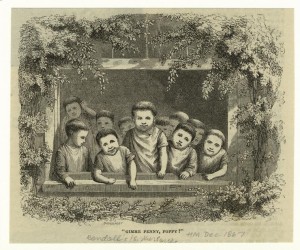 "Gimme penny, poppy?" The desperate scene at the Randalls Island nurseries, circa 1867, according to Harpers Weekly journal. (image courtesy NYPL)
Tom was hit with the flu this week (not the swine kind as far as I can tell) so we don't have a regular podcast for you. It'll be ready by next week!
In the meantime, I put up a new 'illustrated' version of my Randall's Island podcast in our archive feed. You can get it by clicking the iTunes link below or going directly to our feed page.


The smaller islands of the East River reveal fascinating secrets of the city's past, and Randall's and Ward's Islands are no exceptions. Found out how these former potter's fields are related to the most important Olympics-related event New York City has ever seen. The cast includes a swashbuckling British engineer, Jesse Owens, Tony Bennett, Franklin Delano Roosevelt, Fiorello LaGuardia, Robert Moses, and Pearl Jam!
Listen to a regular-audio version here:
Randall's Island and Ward's Island
Randall's Island and Ward's Island — before the merge