I promise, I'm not turning this into an obituary blog! But I was reading the New York Times on Saturday and came across this small write-up. Usually, the paper features two or three short articles of notable people who have passed on; Ms. Mon Toy's obit was instead in the paid section: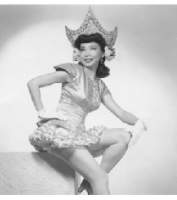 "MARY MON TOY, 93, died on December 7, 2009 in her beloved New York City. A triple threat: Latin Quarter showgirl; original Broadway cast member in The World of Suzy Wong and House of Flowers; on television on Kojak, Ryan's Hope, Teahouse of the August Moon, I Spy and Drs. Hospital; in movies in Airplane II and Bob Fosse's All That Jazz.
She was the first Asian runway model in Paris. Born in Hawaii, her family moved to Seattle in the 1920's only to be uprooted and sent to the Minidoka Japanese American Internment Camp after Pearl Harbor. She left the camp in 1944 on a scholarship to Juilliard procured by Eleanor Roosevelt. The rest of her life was spent in New York City where she was an active member of Screen Actors Guild, AFTRA and Actors' Equity, and generous supporter of The Actors Fund, animal rights and The Japanese American National Museum."
Her story caught my attention and I went look for some more information about her, to no avail. I did find a small review in a 1950 Billboard Magazine review reviewing a variety show at The Palace she was featured in, giving her faint praise:
"Mary Mon Toy showed a good soprano voice, smart wardrobe but little commercial pacing. After opening with This Can't Be Love, she went into Sorrento (English and Italian) and wound up with a piece from Carmen to a fairly good hand."
Her biggest roles were in the original 1954 production of Truman Capote's musical House of Flowers as Mamselle Honolulu, and the 1958 Broadway debut of The World of Suzie Wong, playing the role of Minnie Ho. In the film All That Jazz, she plays a 'dietician'.
You think about the thousands of performance who have come through New York in its long history as an entertainment capital; of the .01% who actually make it big; the large number who pass through without making their mark. Then you have the Mary Mon Toys, who work solidly their entire careers without breaking through.
You have to admit, you cannot possibly read that charming little writeup without wanting to know more.