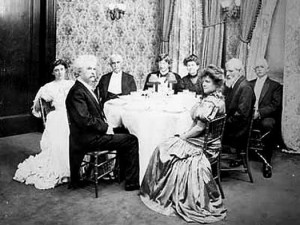 Famished: Mark Twain and a few friends at Delmonico's in honor of his 70th birthday, dated Dec 5, 1905.

Just in time for NYC Restaurant Week! I just put up a new 'illustrated' version of the August '08 Delmonico's Restaurant podcast in our archive feed.
Before Delmonico's, New Yorkers ate in taverns or oyster houses. But the city caught the fine dining bug at this family-owned business, which standardized everything you know about restaurants today. Find out about "menus", "fresh ingredients", "dining rooms for ladies" and other unusual and exotic Delmonico innovations.
You can get it by clicking the iTunes link below or going directly to our feed page. Our archive shows are enhanced with photographs and illustrations that pop up on your listening device.

You can listen to the original audio version here: