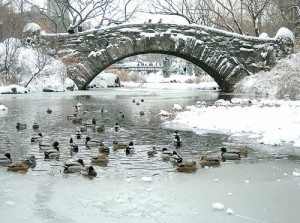 "I live in New York, and I was thinking about the lagoon in Central Park, down near Central Park South. I was wondering if it would be frozen over when I got home, and if it was, where did the ducks go? I was wondering where the ducks went when the lagoon** got all icy and frozen over. I wondered if some guy came in a truck and took them away to a zoo or something. Or if they just flew away." — Catcher In The Rye
Another great author gone, another great book featuring New York City remembered. J.D. Salinger died yesterday. Although he lived for most of his life in Cornish, New Hampshire, his youth was spent in the city, and in fact he went to college for a year at New York University, then at Columbia University where he had his first short story published. (He never graduated.)
Salinger was born on January 1, 1919 at the Nursery and Child's Hospital at West 61st Street and Amsterdam. The hospital was eventually absorbed into the medical complex known today as New York Presbyterian Hospital and Weill Cornell Medical Center.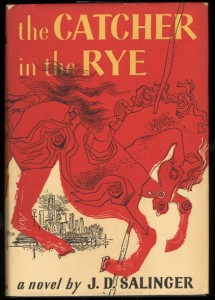 His first home was at 3681 Broadway — literally across the street from the uptown Trinity Church cemetery! — but he would spend his adolescence in many other residences in the Upper West Side. But in his teenage years, the family moved to 1133 Park Avenue at 91st Street, a home that would loosely serve as a model for that of the Caulfield family.
In Catcher In the Rye, Salinger sent Holden Caulfield on an adventure through both real places (the original Penn Station, Radio City Music Hall, the lagoon in Central Park) and imagined. To track him through the streets of New York, I recommend visiting this site. If it's been a few years since you read the book, visit the Dead Caulfields for a quick chronology.
RIP JD.
**The "Central Park lagoon" he's referring to the pond (indeed, often filled with ducks) in the far southeast corner of the park. As you can see, the ducks don't go anywhere. Photo above by Lilybart, from the Central Park website.