[from Flickr, taken by ajagendorf25]
We love the Manhattan Bridge, but there's no doubt it's had a rocky history. For one hundred years, it's withstood more than just comparisons to its far more iconic neighbor, the Brooklyn Bridge.
Built to relieve pressure on the East River's best known bridge, the Manhattan Bridge went through two different engineers — and a couple different ambitious designs — before finally being completed by another architect, who then went on in 1940 to design one of the WORST bridges in America. And serious design flaw afflicts the bridge to this day?
Listen in and find something to appreciate in this seriously under appreciated marvel of the East River:
—
I mention many bridge engineers in this podcast — Leffert Lefferts Buck, Gustav Lindenthal and Leon Moisseiff — but due to time constraints on the show this week, the contributions of Henry Hornbostel were left out. Hornbostel was instrumental in the work with Buck on the Williamsburg Bridge and with Lindenthal on the Queensboro. When we do podcasts on those bridges, he will get his fair due.
—
Preliminary work on the Manhattan Bridge began in 1901 under Buck, with Lindenthal taking reign of the project a year later. When Moisseiff was brought in to rework the bridge in 1904, construction kicked into high gear. Lindenthal's innovative suggestion to use eyebars was discarded for a more conventional wire structure. [Pics courtesy Life Google images]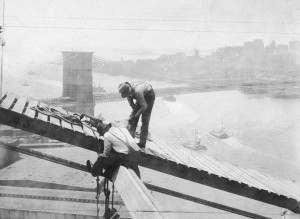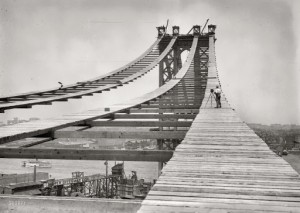 Stringing the cable across the East River took only four months in 1908. Indeed, the traffic snarls on the Brooklyn Bridge demanded them to work quickly. It was also mayor George McClellan's intention to finish the bridge before he left office. [Photo by GG Bain and cleaned up by Shorpy, see a nifty close-up image here]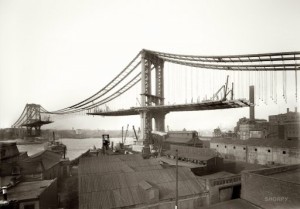 Gustav Lindenthal, born in Brno (now in the Czech Republic), came to the United States, built many bridges, and dreamt up many more that were never completed, like the North River Bridge, which would have spanned the Hudson River, and a monumental Manhattan Bridge designed with 14 lanes of traffic.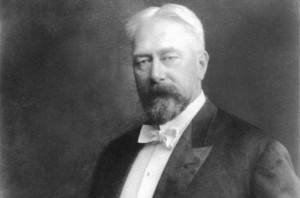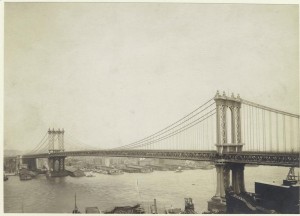 The bridge opened on December 31, 1909, although the pedestrian walkways were not completed and no trains were ready to go over it at that time. Setting it apart from its sister bridges was the flat, blue two-dimensional towers. As you can infer from this photo, facing both sides of the bridge were rows of docks and industrial ports. [Pic courtesy NYPL]

Berenice Abbott has some spectacular views of the Manhattan Bridge, taken in the 1930s. For crisp, dreamlike pictures of Manhattan, you can't do better than Abbott. [courtesy NYPL]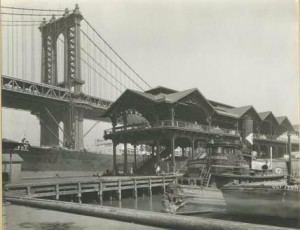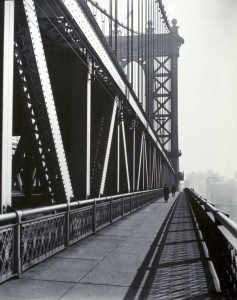 Speaking of Berniece Abbott, Gothamist has some great shots taken by her of the area below the Manhattan Bridge on the Brooklyn side — today it's DUMBO, known then as the strangely desolate Irishtown. [Flashback: Brooklyn 1936]