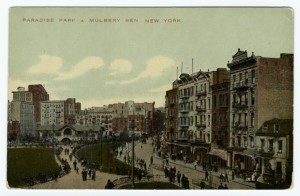 How did the city's worst neighborhood become this park?

A special illustrated version of our podcast 'Five Points Part 2: The Fate of Five Points" is now available on our NYC History Archive feed.
In our second podcast on the notorious Five Points neighborhood, we see how the district changed with the influx of new immigrants and the valiant attempts to reform the seedier elements. With the new Italian and Chinese residents, the culture changed drastically, critical shifts that are still reflected in the neighborhoods of Chinatown and Little Italy today.
Who was the man who helped to clear Five Points from the landscape forever, and what famous park designer is associated with its replacement in the streets of downtown Manhattan?
Original show released August 30, 2008
You can tune into it below, download it for FREE from iTunes or other podcasting services, You can listen to the cleaned up audio version right here: The Fate of Five Points
Or view the enhanced version here:
The Bowery Boys: The Fate of Five Points