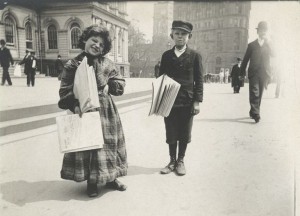 Two wee newspersons prepare to disturb the air with their shrill, violent cries of commerce. Photo by Alice Austen[NYPL]
Those newsboys — always causing trouble! Over 150 years ago in Brooklyn, it wasn't a strike that caused consternation with readers of the Brooklyn Daily Eagle; it was the mere sound of their harsh little voices.
In a Saturday, June 12, 1858, edition, one of the editors addresses the scandal: "The Sunday newsboys are engaging a great deal of attention just now. The police authorities have prevented them from hawking their papers on Sunday; and the Sunday papers retaliate by threatening to agitate for the suppression of church bells, whose noise is certainly as destructive of quiet as the lungs of the newsboys.
"As it it not so much the noise that is objected to as the character of the sound, a compromise might be effected by inducing the boys to advertise their wares on a musical key, and sing their merits to some pious tune….They might even adopt the use of bells themselves, as the knife-grinders do, and announce their approach by ringing one of the favored instruments"