BOWERY BOYS RECOMMEND is an occasional feature where we find an unusual movie or TV show that — whether by accident or design — uniquely captures an era of New York City as well as any reference or history book. Other entries in this series can be found here.
Rarely do documentaries on New York City history ever hit movie theaters, so I was excited to catch 'Stonewall Uprising' this weekend at the Film Forum. I found not only the subject matter interesting — the Stonewall riots, as described by people who were there — but the clever way the filmmakers visual ed an event with so little archival images to use.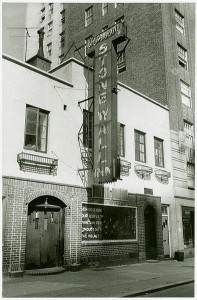 The riots outside the Stonewall bar in June of 1969 set police officers against gay street kids and drag queens, and the chaos spilled out into the crooked streets of the West Village for days after. What followed could not have been predicted: the formation of a energized gay community and the birth of New York's annual Pride march.
The film, directed by Kate Davis and David Heilbroner, makes use of excellent interviews from both participants in the riot, and even Seymour Pine, the officer in charge of closing Stonewall bar that fateful night, makes an appearance. Setting the oppressive atmosphere are several scenes of grainy industrial films, laying bare the social mores of the 1950s and 60s, and heavy reliance of CBS News's infamous expose 'The Homosexuals'. If anything, 'Stonewall Uprising' is a faithful adaptation of David Carter's terrific book on the same subject.
Since people weren't exactly carting around video cameras to mob-operated gay establishments in the 1960s, the directors devise reenacted scenes. However, unlike the poorly acted and costumed reproductions that you sometimes see on the History Channel at 2 a.m., the visuals of 'Stonewall Uprising' are often disturbingly lifelike.
Outside a few notably modern camera angles, the footage often looks like the careful re-animation of old photographs, like some kind of new James Cameron viewer-immersing technology. I guess I was distracted by the reproduced scenes, yet it never took away from the film's intent, most likely because the candid interviews presented were fresh, often funny, and sometimes heartbreaking.
Check it out in a local movie theater or be sure to watch for it on television sometimes. (It's an American Experience production so I imagine it makes an appearance on PBS soon.)
For a refresher of the tumultuous events of that year, check out our podcast from 2008 on the history of the Stonewall Riots.