Every Monday I'll try and check in with the Mad Men episode from the night before and focus in on one or two historical references made on the show. Spoilers aplenty, so read no further if you don't want to know….
While the inebriated men of Sterling Cooper Draper Price were accepting Clio Awards at the Waldorf=Astoria, poor Peggy was stuck in a hotel room with a pretentious creative director going over ideas for a campaign for Vicks cough drops. Rizzo, the director, claims to be a nudist, or at least to sympathize with the cause. (Since the impetus of the conversation revolves around looking at a Playboy Magazine, I would say he's probably a poseur and a faux-nudist.) Goading Peggy, she calls his bluff, strips off her clothes in a sign of liberation and casually settles back to brain storm.
By 1965, the nudism movement (or naturism) was firmly established in America, its proponents gathering in secluded camp grounds for decades, often near urban areas where its philosophies could be more easily disseminated, usually (but not always) among bohemians or extreme practitioners of physical fitness. Rizzo's casual — but ultimately timid — embrace of a nudist philosophy was certainly not unusual by the mid-1960s and would be popularly corrupted in the practice of campus streaking.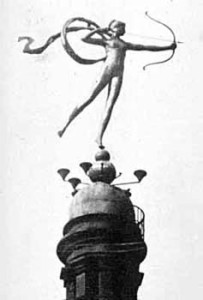 The roots of the American nudist movement start in New York City among a group of German immigrant intellectuals, bringing over a well-established discipline from Europe. Kurt Barthel began the American League for Physical Culture in New York in 1929 as a straight-laced, non-lurid celebration of the human body; as an extreme corollary to the temperance movement, Barthel advocated clean living and eschewed alcohol.
At left: In the days before nudist organizations, even racy sculpture like that atop the old Madison Square Garden could scandalize discreet New Yorkers.
From the little I could find on the early days of this organization, they had their first clothes-off gathering on Labor Day 1929 in upstate New York with seven participants (both men and women), but the organization held meetings in the city, at a Tenderloin establishment called the Michelob Cafe on 28th Street. (NOTE: I can only find evidence of a place called this from various nudist literature and not from any independent source.)
A guidebook to the discipline, called 'The New Gymnosophy' (or 'Nudism In Modern Life') written by Turkish doctor Maurice Parmelee, could be found in certain bookstores in New York, but was naturally sold behind the counter. Although a dry, philosophical text, the subject would have scandalized book buyers! In 'Gymnosophy', Parmelee extolled the virtues of the nude lifestyle, recounting the health risks of clothing and mental strains of bodily shame while being sure to separate these philosophies from common prurient thoughts.
Parmelee writes: "Sex feeling and curiosity…characterize practically all adults who enter the gymnosophic movement. After becoming habituated, sex stimulus through vision usually falls to normal and the initial curiosity is satisfied. [Excerpted in the book 'Studies in human sexuality' by Suzanne G. Frayser]
Interestingly, this sociologist and intellectual nudist is perhaps best known as being the author of America's 'first criminology textbook'.
Upstate campgrounds were fine (and far away from disapproving eyes) during the summer; but in the winter, the American League for Physical Culture met up a few times a month in a Manhattan gymnasium, and that put its naked aesthetic at odds with New York's indecency laws. In 1931, one such meeting was raided by the police and Barthel was thrown into jail. In 1932 Barthel founded the Sky Farms nudist colony in Basking Ridge, NJ, the nation's oldest continually operating nudist facility.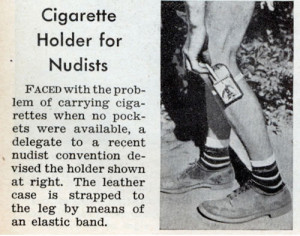 Above: If Don Draper were a nudist. (Photo from Martin Klasch)
By then, nudism philosophies had attracted other New Yorkers, including two librarians from the New York Public Library, Herman and Katherine Soshinski, who started up their own group — American Gymnosophical Association — and their own nudist colony, the Rock Lodge Club in northern New Jersey, still active today. (Who knew there were so many outlets for nudism in New Jersey?)