The BMT Jamaica line, late 1970s (Courtesy NYT)
PODCAST #111 Art. Vandalism. Freedom. Blight. Creativity. Crime. Graffiti has divided New Yorkers since it first appeared on walls, signs and lampposts in the late 1960s. Its ascent paralleled the city's sunken financial fortunes, allowing simple markings to evolve into elaborate pieces of art. The only problem? The best examples were on the sides of subway cars which the city promptly attempted to eradicate, their attempts thwarted by clever, creative artists and a downtown culture that was slowly embracing graffiti as New York City's defining art form.
This is a history of the battle between graffiti and City Hall. And a look at the aftermath which spawned today's tough city laws and a warehouse space in Queens called 5Pointz, where graffiti masterpieces thrive in abundance today.
You can tune into it below, download it for FREE from iTunes or other podcasting services, or get it straight from our satellite site.
Or listen to it here:
The Bowery Boys: Subway Graffiti 1970-1989
TAKI 183
— he didn't create the graffiti art movement, but his tags throughout the city inspired a New York Times investigation into the mysterious 17 year old Greek teenanger's antics, putting other taggers in the spotlight.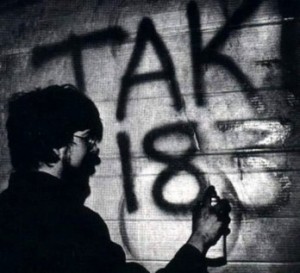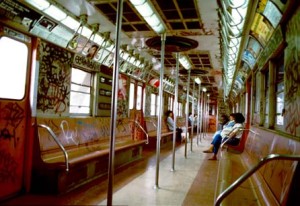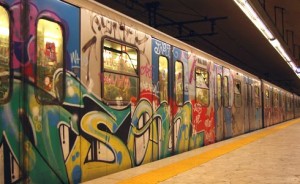 A ride on any subway during the 70s and 80s usually meant containment within a car coated in graffiti tags. The most artistic, colorful pieces (like the one below, by Lee Quinones, 1976) were hung on the outside. (Photo courtesy Second Avenue Sagas)


Below: Some of the astonishing work you'll find out at 5Pointz Aerosol Art Center Inc., subtitled "The Institute For Higher Burnin'."
For more tales of the 70s-80s graffiti scene, check out the blog @149st with individual profiles of dozens of period artists and taggers. Kings of New York is a spectacular photo blog of past and current work on walls and other surfaces throughout the city.
Two early photographers and writers of the subway graffiti scene have great books on the topic — Jack Stewart (Graffiti Kings: New York City Mass Transit Art of the 1970s) and Keith Baugh (Early New York Subway Graffiti 1973-1975: Photographs from Harlem, South Bronx, Times Square and Coney Island).
And finally, an excerpt of a short film by Steve Siegel, featuring a host of graffitified trains. And gotta love that opening sequence: