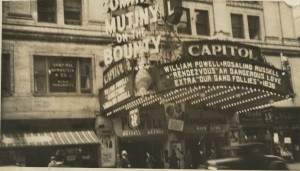 The Capitol in 1935, its feature attraction the spy thriller Rendezvous
Every Monday I'll try and check in with the Mad Men episode from the night before and focus in on one or two historical references made on the show. Spoilers aplenty, so read no further if you don't want to know….
While doing some background work on last week's podcast, I came across an indulgent presentation in the New York Tribune of some elaborate new mural pieces by nearly forgotten painter William Cotton, installed in 1920 on the walls of the Capitol Theater, at Broadway and 51st Street. "The great mural paintings by William Cotton in the Capitol Theater stand to-day unrivaled. There are in America no decorations to compare with them." (Take a look at these 'unrivaled' murals here.)
I crossed paths with the Capitol Theater again in this week's episode of 'Mad Men'. Most of the staff of Sterling Cooper Draper Pryce were attending an exclusive screening at the Capitol of the now-infamous Cassius Clay-Sonny Liston prize fight, waged in Lewiston, Maine, in May 25, 1965, a re-match between boxing powerhouses that help solidify the reputation of the future Muhammad Ali.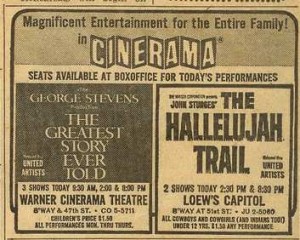 Like many locations previously featured on the show, the Capitol was past its prime by 1965 and would not make it out of the 1960s.
A movie house designed by architectural wizard Thomas W. Lamb, the Capitol opened in October 1919 and helped establish the template for lavish film palaces, with 4,000 seats, a 25 x 60 feet screen, and a stage large enough to host variety shows, classical music concerts and even radio broadcasts.
Not surprisingly, it was originally managed by Samuel "Roxy" Rothafel, of Radio City Music Hall fame.
By 1965, the stage productions had stopped, but the theater was still hosting spectacular film premieres such as the one on December 22 for 'Doctor Zhivago'. As the unflappable Bosley Crowther dryly notes in his film review from that premiere: "In the three hours and seventeen minutes (not counting intermission time) it takes to move Robert Bolt's dramatization of Boris Pasternak's Doctor Zhivago across the screen, a few rather major things happen."
That June, for the now forgotten Burt Lancaster western 'Hallelujah Trail', the film studio United Artists threw a promotional barbecue in front of the theater that shut down Broadway.
The theater closed in 1968, but at least it went out memorably: its last two movies were Planet Of The Apes and (starting that April) 2001: A Space Odyssey, both in glorious Cinerama.
So, what's sitting there now? Mars 2112 (and the Paramount Plaza office tower). It's too bad they didn't have Mars 2112 back in the 1960s; I'd love to see Roger Sterling get sloshed on their alien themed cocktails.
Coincidentally, by the way, our 'Mad Men' friends were attending a broadcast of a boxing match in a theater that sat only one block from the greatest live venue for boxing in the world — Madison Square Garden, when, in its third incarnation, it sat at 50th Street and 8th Avenue.
Below: the lush interiors at the Capitol Theatre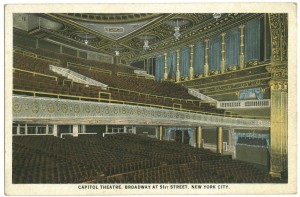 Top picture courtesy NYPL Digital Gallery. Movie advertisement courtesy Cinema Treasures You can check out a lovely picture of Times Square in the 1960s featuring the Capitol here