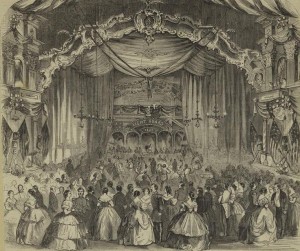 It's gettin' hot in here: the Light Guard Ball at the Academy of Music in 1860
We may be 150 years separated, but the New Yorkers of 1860 had similar (if more primitive) fascinations, judging from the September 28, 1860 issue of the New York Daily Tribune. If you were stressed out about national politics (I could vote for this Lincoln fellow, but they won't much like it in the South) or local affairs (oh Mayor Wood, what shenanigans will you get up to next?), you could leave your house and sample some of these amusements:
Museums
One of New York's most popular attractions since 1814, Barnum's American Museum was a worn amusement constantly trying to outdo itself. In the Sept. 28 paper, the museum advertised a selection of bizarre, largely politically incorrect exhibits, such as a living tattooed New Zealand chief and 'the most singular and wonderful Albino Family, or White Negros'.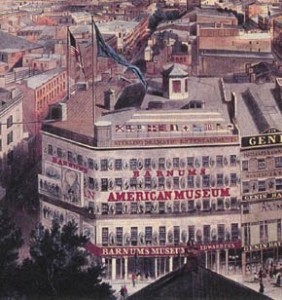 Not to mention the star of the show, the 'What Is It? or Man-Monkey' (actually a mentally disabled actor with a misshapen cranium) and the variety of aquatic animals ('flying fish, living alligators, living crocodiles') living in poor conditions downstairs. And 'All To Be Seen For 25 Cents'. Nothing to be offended about here. Moving on….
Theater
Just east at the Bowery Theater you could find the biggest star of the Bowery, Frank Chanfrau , appearing on stage doing some of his famous impersonations. Although the newspaper does not list the particular performances, Chanfrau was known for mimicking other famous actors (like Edwin Forrest) and poking fun at serious Shakespearan roles. The actor was the star and manager of the Bowery Theatre for many years. Also on the bill: a dance by the totally forgotten Ada Price. (The following night, you could go to Niblo's Garden and see the actual Mr. Forrest doing actual Shakespeare.)
Fairs
The annual American Institute Fair, what some consider the first 'world's fairs', was in full swing at Niblo's Garden in September 1860, with displays of industry and horticulture (something for the lads and the ladies!), and New Yorkers could marvel at "Pratt's new anti-friction Universal Rolling Journal Box." The Fair used to be held at the lavish Crystal Palace, but that glorious venue had burnt down a little less than two years ago.
Galleries
Although there were no specific large-scale galleries at this time, landscape art often found audiences in small venues, like the Crayon Art Gallery at Broadway and Eighth Street, displaying George Loring Brown's 'Bay And City of New York At Sunrise'. The Crayon gallery was owned by future journalist George Ward Nichols, who would go on to his most infamous moment in 1867, writing an error-strewn article for Harper's Magazine on Wild Bill Hickok that nevertheless went on to immortalize the gunslinger into a national icon of the old West.
Publishing
If you preferred to read a book in the park, look no further than the new version of Walt Whitman's 'Leaves of Grass', for only $1.25. The Whitman collection was originally published in 1855, but many revised editions were released afterwards. This 1860 edition is notable for its strange red-orange cover with a butterfly, which on top of its connection to nature, was "also a vernacular term for prostitute." After somewhere between 2,000 and 5,000 copies of the 456-page tome were published, its publisher Thayer and Eldridge almost immediately went bankrupt. ALSO PUBLISHED: 'An Overland Journey' by Horace Greeley, recounting a cross-country adventure from New York to San Francisco.
Sports
If you didn't fancy the horse races out at Fashion Race Course in Flushing(Queens), one could venture up to Jones Wood for a curious event involving acrobats and wheelbarrows. The famous European acrobat Jean François Gravelet-Blondin (often billed as Charles Blondin) — a.k.a. 'the Daring Blondin' — walked the tightrope and pushed a wheelbarrow alongside it, to the delights of dazed thrillseekers below. It was billed, naturally, 'The Great Wheelbarrow Ascension'. Blondin would have drawn great crowds on his real claim to fame — he crossed Niagara Falls on a tightrope just the year previous.
Read other news of the day from Sept. 28, 1860 here.