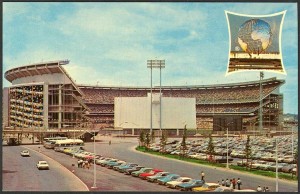 A special illustrated version of our podcast on Shea Stadium (Episode #62) is now available on our NYC History Archive feed. Just hit play and images of the things we're talking about appear on any compatible media player.
As the Mets wrap up their season this weekend at their new home Citi Field, I thought I'd look back at the great stories contained in their old venue, Shea Stadium, a Robert Moses project that took years to get off the ground and has been populated with world class ball players, crazed Beatles fans, and one very mysterious black cat.
ALSO: A brief look at the creation of the Mets and the contributions of the stadium's namesake William Shea
Download it for FREE from iTunes or other podcasting services, or you can listen to the cleaned up audio version right here: Shea Stadium
Postcard above courtesy the terrific travel image blog Viewliner Ltd.