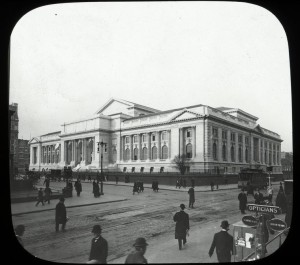 The New York Public Library main branch building in 1911. If you'll notice, the lions are not on their pedestals. (Courtesy NYPL)
With the ringing in of another new year comes a new list of institutions, events and accomplishments marking significant milestones this year.
400 Years Ago
Hendrick Christiaensen visits Mannahatta 1611
Who, you ask? Sure, nobody forgets Henry Hudson's voyage to the unexplored river that would soon bear his name or his fateful adventures along the lands that would one day become Staten Island, Brooklyn and Manhattan. But what about the second great adventurer to the region, the Dutch explorer Hendrick Christiaensen, who made his first visit to the future New York harbor in 1611, verifying Hudson's first exploits. He would return later that year with fellow explorer, Adriaen Block. Block's explorations in the following years would officially stake the Netherlands' claims to the region.
Hudson, by the way, was last seen 400 years ago this year, set adrift by a mutinous crew. (More about this in our podcast on Henry Hudson.)
350 Years Ago
Staten Island's oldest town founded 1661
A big anniversary for the borough this year: The first Dutch village was established here in August 1661 on the island the New Netherlanders named for their Staten-Generaal (state parliament). The nineteen Dutch, Walloon and French Huguenot families who moved there called it 'Oude Dorp' for Old Town and often still goes by that name today, in the neighborhood of South Beach, just south of the Verrazanno-Narrows Bridge.
250 Years Ago
City Island founded 1761
The languid little island, known as Minefer's Island back when it was owned by Thomas Pell, had a small population and a minute profile until it was bought by Benjamin Palmer in 1761. Palmer wanted to built a port here to rival New York's; he developed the island, built a bridge to make it accessible and called it City Island, a harbinger of things to come. It never did meet that promise, but the residents who call this quaint, unusual sector of the city home have no regrets.
On your way to City Island, you might be driving along the Pelham Parkway or crossing the Throgs Neck Bridge, which this year turn 100 years and 50 years old, respectively.
200 Years Ago
The Commissioners Plan of 1811
Without the Commissioners Plan, Manhattan might have developed into a confusing tangle of at-odds pathways shaped by private and competing interests. Instead, with the publication of the plan in March 1811, the future development of the island was shaped into north-south avenues and east-west streets.
150 Years Ago
Brooklyn Academy of Music opens 1861
Brooklyn opened its symphonic musical institution in 1861 as a way to keep up with New York's high culture scene. BAM would quickly distinguish itself and outlive New York's own Academy of Music, surviving fires and depressions by expanding its scope into a variety of arts.
100 Years Ago
The Triangle Factory Fire 1911
March 25 will be a very somber day around the Washington Square area, as the neighborhood marks the one hundred anniversary of the Triangle Shirtwaist Factory fire, a terrifying tragedy killing 146 mostly immigrant factory workers which united the city in improving working conditions and building codes.
100 Years Ago
New York Public Library building opens 1911
New York civic leaders had already united their various libraries during the 1890s, and small, community libraries began popping up throughout the city. All they needed now a grand Beaux-Arts home for the finishing touch. The main branch building, constructed by Carrère and Hastings, opened on May 23.
And, as I'm sure you don't need reminding, September will also see the tenth anniversary of the terrorist attack on the World Trade Center.