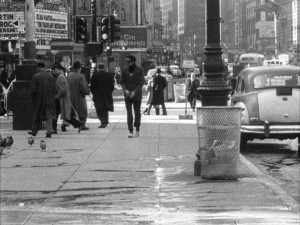 A beat in Times Square: Ben Carruthers drifts through the city in 'Shadows'
BOWERY BOYS RECOMMEND is an occasional feature where we find an unusual movie or TV show that — whether by accident or design — uniquely captures an era of New York City better than any reference or history book. Other entrants in this particular film festival can be found HERE.
When we did our Times Square podcast a few weeks ago, I went looking for photographs that captured its mid-century transition, when the balance between glamour and sleaze began tipping from one extreme to the other. When was the moment that 42nd Street went from meaning one thing, to the other? Had I seen John Cassavetes' 'Shadows' then, I wouldn't have needed to look much further.
'Shadows' is a revolutionary moment in film, displaying a loose, on-the-fly vocabulary and a casual, bebop storytelling style completely foreign to movies of the day. Cassavetes, a young acting teacher and soon-to-be film star in his own right, assembled production funds and the film's cast from among his friends and acquaintances. Its largest supporter was radio deejay and writer Jean Shephard, years before writing short stories that would form the basis of the film 'A Christmas Story'.
The film was finished in 1959 after Cassavetes had initially completed one version in 1957 and sent the actors on their merry way. He recalled the cast and inserted new scenes which are easily identified. The plot is largely improvised and feels it. The somewhat central plot — a romance between a young black woman and a white jazz musician she meets at a party — was provocative for its time, but feels little wooden today. The acting is all over the place. (Cassavetes' wife Gena Rowlands, later to become his greatest star, appears only fleetingly as an extra.)
But I'm recommending this film for its style and electricity, its cool depiction of downtown beatniks afloat in midtown Manhattan. The images and sounds seem to fly together, with an airy jazz score accompanying a broad number of New York locations rising from a grainy black-and-white haze.
Its most famous scene depicts the lovely Lelia Goldini strolling down 42nd Street after dropping off her brother at Port Authority. He wants her to take a cab home; she wants to enjoy a walk. 42nd Street isn't the seedy corridor it would become, but it isn't safe either. Outside a movie theater, aflame with the glowing lights of surrounding marquees she's harassed by a stranger. But this is a street in transition; Lelia is rescued by strangers, and the harasser is himself harassed. (See if you can recognize one of the strangers.)
The movie is strongest when it's drifting along with rebels, three hapless hipsters led by the magnetic Ben Carruthers. They invade a countless number of dive bars and diners, looking for street smart ladies. That's how they look at the entire world which makes their visit to the sculpture garden at the Museum of Modern Art strangely compelling. I'm sure you've never looked at art the way these three do.
In a cramped and dank nightclub, smoke and whiskey filled, a jazz vocalist, played by Hugh Hurd, is forced to become an emcee to a bunch of talentless dancing girls, the humiliation on his face a sure representation of the changing tastes of New York nightlife. In the variety shows of yore, his somber talents would have fit in; by the late 1950s, moody jazz was merely a distraction.
'Shadows' has a wonderful mood of melancholy that would go on to exemplify the great New York independent movies of the 1960s and 70s. The long procession of cabs zooming down the avenue, past the Colony Records and the Thom McAn's, past the titillating neon 'FASCINATION' of a 42nd Street theater, would go on to influence the dreams of New York lovers for years after.
Here's the trailer: