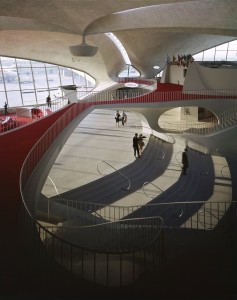 If Barbarella were an airport terminal, certainly she would be this one. A traveller's dilemma: what destination could possibly be as exotic as the airport from which you were leaving?
Scandals: We had a blast talking about JFK Airport this week, and it's always funny seeing something we just talked about popping up in a major news event the weekend of release. Had we recorded the show this week, perhaps we have mentioned disgraced French politician and International Monetary Fund director Dominique Strauss-Kahn, who was pulled off his flight at JFK Airport and arrested in connection with a sexual assault at a Times Square hotel.
Strangely enough, Tom (a superb French speaker) was walking around with his family in downtown Manhattan this past weekend, and they were interviewed about the scandal by several international news teams, including TV5MONDE, RFI (Radio France International) and TF1. So if you live in France or a French-speaking nation, you probably saw Tom and his family on your national news yesterday!
Correction: I put Roosevelt Field in Hempstead, Long Island, when it's actually in nearly Garden City. I wasn't really so far off; Garden City is located in the region once called the Hempstead Plains, which I discussed last week as the location of America's first racetrack.
Eero Saarinen: Our show was running long, so some of our praise of Saarinen's other work got left on the cutting room floor. But there are two other Saarinen buildings in New York, and both prominently placed — the monolithic CBS Building on Sixth Avenue and the Vivian Beaumont Theatre at Lincoln Center. You can read more about them here.
Pretty pictures: If you'd like to look at a lot more fantastic pictures of Idlewild's glory days, visit the forum at Wired New York with lots of postings from airplane buffs. The image above is from there.
The mystery of Idlewild: One of the more frustrating aspects of doing research was the utter lack of information about Idlewild Golf Course, which was purchased by the city to construct the airport. Taking some golf enthusiasts at their word, it appears to have opened in 1930 and remained open for over a decade. But what was that named after? There's a Idylwylde golf course in Ontario, Canada, that was constructed in 1922. Any connection?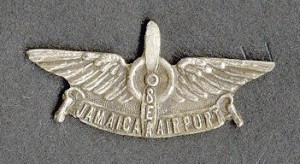 Jamaica Sea-Airport: Some of the acreage LaGuardia bought up by the city to construct Idlewild was actually already being used as a landing strip. The Jamaica Sea-Airport was a tiny airfield off the bay that opened in 1927, using three runways and a small tin hangar. At right: An antique lapel pin from this long forgotten airstrip.
For More Information: Some key books we used for this show include Airports: A Century of Architecture by Hugh Pearman, Naked Airport by Alastair Gordon/ and John F. Kennedy International Airport by Joshua Stoff, from the Images of Aviation series. And I highly recommend the petite photography book The TWA Terminal by acclaimed architectural photographer Ezra Stoller. I've put another one of his images below, but the whole book is a perfect capsule history of this strange building.