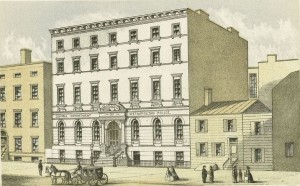 There is nothing extraordinary at 300 Mulberry Street anymore, just a standard five-story apartment complex and a parking garage, hugged to its south by a Subway sandwich shop. But for much of the Gilded Age, this address was the grand headquarters for New York's police department.
The Mulberry Street building was New York's center of law enforcement from 1862 to 1909. Not surprisingly, it was located close to the densest concentrations of tenements and just eight blocks down Mulberry to the heart of Five Points. And this spot is directly between Broadway and the Bowery.
The building had an unfortunate inauguration as the year after opening came the summer of the Civil War draft riots. The superintendent of police, John A. Kennedy, was savagely beaten and deposited at headquarters nearly dead. Rioters targeted telegraph poles throughout the city, leaving officers there in a 19th century version of a communication dead zone.
No doubt, overseeing the criminal behavior of a quickly multiplying populace in one of the world's richest cities in the 19th century was no ordinary achievement. "No other building in the city, probably, is richer in memories than 300 Mulberry Street," said the New York Times in 1909. "It is famous the world over." In an other article, the paper triumphantly calls the force "America's Scotland Yard." Notable among its many rooms was the famed 'Rogue's Gallery', a collection of photographs of the city's most notorious criminals.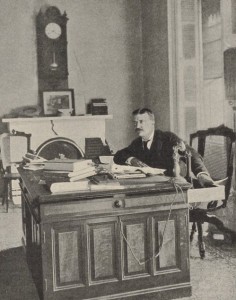 But during the 1870s and 80s, the department was mired in corruption; mayors throughout this period usually ran for election on the mantle of police reform, only to cave to the organization's impossibly deep infrastructure of bribery and kickbacks. It would take the state-run Lexow Committee in the 1890s and later, in 1895, a reform commissioner named Theodore Roosevelt to clean up the shenanigans here. At right: Roosevelt in his Mulberry Street office.
According to a 1901 issue of the Evening World: "Today No. 300 Mulberry Street is the centre and disseminator of laziness, corruption, contempt for all the right standards of police duty. And the once superb detective branch, the pride of New York, has become feeble and almost ridiculous."
The force used the excuse of expansion — and the needs of a consolidated five-borough city — to rehabilitate its image. It needed a larger, modern structure, one untainted by the reputation of corruption. And so, in 1909, after a flirtation with relocating to Times Square, the force moved to the elegant Beaux-Arts palace on Broome and Centre streets. That structure, at 240 Centre Street, still stands as a luxury condominium. The old headquarters at 300 Mulberry, however, were torn down and have been long forgotten. Not even a plaque!
A reconstruction of the interior can be briefly seen in the Draft Riots scene of Martin Scorsese's 'Gangs of New York':
By the way, a few months ago, I wrote about a very notable saloon experiment from 1904 called the Subway Tavern, a non-alcoholic church-owned saloon which opened around the same time that the New York subway did. It was located on the corner, just a couple doors up from the police headquarters. [Read more about it here.]