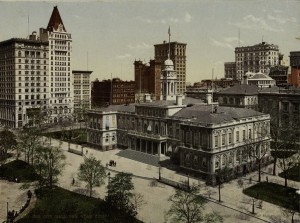 Above: City Hall in 1900 (Courtesy NYPL)
Never have I been more elated to write about a City Council meeting.
At the start of the 19th century, city affairs were still being conducted on Wall Street at Federal Hall. For many years they shared the corridors with George Washington and the first American Congress. By 1800, the federal offices were long gone, but that 'old City Hall' was no longer an adequate structure for the affairs of a fast growing city.
So a new City Hall was planned in 1803 by New York's most notable designers of the day, Joseph Mangin and John McComb, to be placed at the site of the city's old common grounds. After years of delays, however, it seems city leaders grew a tad impatient. Although the new City Hall building would not officially be completed until 1812, the mayor and the Common Council moved in anyway.
According to state records, the very first meeting between Mayor DeWitt Clinton and the council was held on August 12, 1811.
"The Common Council met agreeably to adjournment in the new City Hall in the room designed for the Mayor's office." Mayor Clinton was joined in his chambers by a recorder and the 17 members of the Common Council, including both Caleb and John Pell, whose family holdings would become the basis of Pelham Bay Park.
And what, you may ask, was the big item on their agenda? The proposal to fence in Chatham Square.
That open patch of land, on the Bowery and to the west of City Hall, had become an open air livestock market. The famous old Bull's Head Tavern was located nearby, and farmers from all over Manhattan came to this area to sell their wares to merchants and to factories located around Collect Pond. Some on the council believed a fence around this place of business would constrict farmers attempting to move in and out of the property.
Still, a fence brought the promise of cleanliness. Collect Pond was being drained and levelled, and city leaders expected the land values surrounding it to increase. Thus the fence was approved. You can find a picture of Chatham Square and the newly constructed fence below.
But more importantly, with this decision, two hundred years of civic bureaucracy were well underway!
For more information, check out our podcast on the history of City Hall and City Hall Park (Episode #93).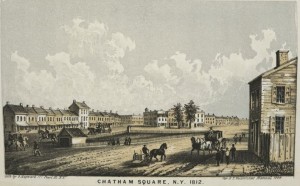 Courtesy the New York Public Library Digital Image gallery