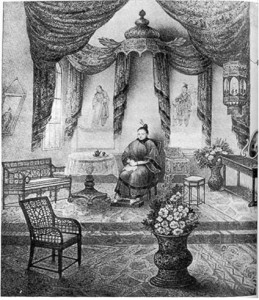 Meet Afong Moy, the Chinese teenager who became the most famous Asian person in America in the 1830s. I would not exactly call her notoriety enviable.
There's a strong likelihood that Moy (in the illustration at right) was actually the first Asian woman to ever step foot in New York. Early trade with China, beginning in 1784, would have brought New Yorkers in contact with the Chinese for the first time, but the traders and sailors manning the trading vessels would have been male. By the 1830s, it would have been rare but not extraordinary sight to see a visiting Chinese sailor in the boatyards and taverns of Corlear's Hook.
Moy arrived in New York by boat as well, on a trading ship called The Washington, owned by brother traders Frederick and Nathanial Carne. But she arrived in New York ostensibly as a possession, an exotic companion to a set of rich Oriental objects brought over by the Carne's for exhibition.
Moy, between 16 and 19 years of age, was brought to the United States as part of a national tour of Chinese treasures, debuting on November 6, 1834. She was garbed in traditional fashion and displayed among a collection of imported finery and trappings brought over by the Carne brothers. It's no surprise that her presentation was at New York's American Museum. P.T Barnum wouldn't own the holdings of the museum until the 1840s, so the museum, housed in the old almshouse in City Hall Park, was still in the hands of the Scudder family. (Listen to our podcast on Barnum's American Museum for more information.)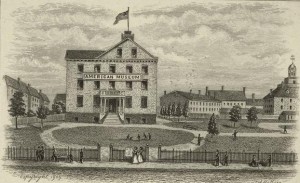 Above: Scudder's American Museum, in City Hall Park (Picture courtesy NYPL)
For fifty cents, the curious could observed Moy in her fabricated 'authentic' chamber; "[T]he simple foreignness of Afong Moy was deemed sufficient novelty to warrent her display," according to author James Moy. Of particular fascination to New Yorkers were her "little feet". (The New York Times called them "monstrous feet.") In an ad for a later exhibition at the museum of Rubens Peale, ad copy exclaimed, "Afong's feet are four inches and an eighth in length, being about the size of an infant's of one years old. And, to add to the interest of the exhibition, the shoe and the covering of the foot will be taken off."
Moy would speak to audiences via an interpreter, entertain with a traditional Chinese song, and, at regular intervals, would circle the room and allow people to observe her 'little feet' in action. Newspapers made note of her reactions, including her fit of giggles at seeing something so unusual as a left-handed person.
Although she did indeed tour various American cities, she seemed to hit every major New York venue of the day, including Niblo's Garden, the Brooklyn Institute, and Barnum's own American Museum, when it opened in 1842.
Not much is known of Afong Moy, which was not her real name. (One thing I'm pretty sure of, her name was not "Juila Foochee ching-chang king, daughter of Hong wang-tzang tzee king," as was listed in the New York Daily Advertiser.) She toured the country from 1834 to 1847, then disappears from the record. There does not appear to be a single record of an interview of Moy, or any letters or diaries. What we know of this singular woman is seen only through the twisted kaliedoscopic lens of mid 19th century public astonishment.
Top picture courtesy NYPL