WARNING The article contains a couple spoilers about last night's 'Mad Men' on AMC. If you're a fan of the show, come back once you're watched the episode. But these posts are about a specific element of New York history from the 1960s and can be read even by those who don't watch the show at all. You can find other articles in this series here.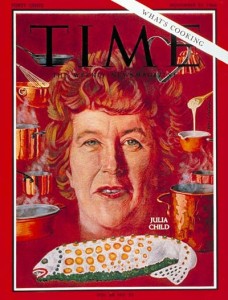 This week's episode was set in the week before Thanksgiving 1966, certainly a moment of great apprehension for many American housewives like the embittered Betty Francis (the artist formerly known as Betty Draper).
The cover of Time Magazine that week (11/25/66) featured a psychedelic portrait of Julia Child, framed in a chorus of saucepans with some kind of odd,decorated fish below her. Her Boston-based program The French Chef had been on the air over three years by then, bringing rich, savory delicacies into American homes. "Her fingers fly with the speed and dexterity of a concert pianist. Strength counts, too, as she cleaves an ocean catfish with a mighty, two-fisted swipe or, muscles bulging and curls aquiver, whips up egg whites with her wire whisk." [source]
Child made classic, wholesome dishes with generous portions of high-calorie ingredients. But the 1960s also shoehorned greater artificiality into American kitchens — a barrage of food products loaded with preservatives, in unnatural shapes and presentations. The two food products most substantially featured on this week's episode were canned whipped cream and Hostess Sno Balls, pink mounds of firmly molded, processed cake coated in a gelatinous frosting of uncertain origins. Even as Child stressed classic meals with fresh ingredients, actual food production was moving further away from easily digestible ingredients.
Made available to American grocery stores between 1965 and 1967: Bac-Os bacon bits, Shake 'N' Bake, Doritos, Easy Cheese, SpaghettiOs, Tang, Cool Whip.
If eating patterns in the 1960s set the county on a path of future health problems, they also spawned America's first significant weight loss regiment. Betty, mortified by her extra pounds and judging herself against the lanky frame of her ex-husband's new wife, turns to a community group that would grow to become the most successful weight loss program of the 20th century — Weight Watchers, a Queens-based company formed in 1963 that brought weight control to the mainstream.
Founder Jean Nidetch described herself in a 1971 biography as a "fat Brooklyn girl who grew up to be an even fatter Queens housewife." She graduated from high school in Bedford-Stuyvesant in the 1940s and worked for the Internal Revenue Service before marrying in 1947. By the 1950s, she found herself in the massive garden apartment complex Deepdale Gardens in northeast Queens raising two sons and developing a compulsive eating habit.
Trying every available fad diet to no avail, she eventually visited a city-run obesity clinic in the neighborhood of Kips Bay in Manhattan, where she was advised to eat a so-called 'prudent diet': "two pieces of bread and two glasses of milk a day, fish five times a week and a weekly meal featuring liver." [source] What they didn't prescribe was camaraderie.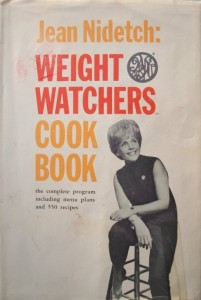 Nidetch took the food plans back to her apartment complex and organized a small cluster of neighborhood women to support each other in their quest to shed pounds. By 1962, she had lost dozen of pounds and had gained valuable insight into the power of group support to control eating habits. Using the 'prudent diet' as a rough guideline, she moved her regular meetings into a loft above a movie theater in Little Neck, charging $2 per meeting — the same price as the movie tickets being sold downstairs.
As depicted in this week's episode, set in November 1966, Weight Watchers was still very much a regional program. Nidetch's first Weight Watchers cookbook was released earlier in the year, debuting the regimented eating plan and structured point system.
A sampling: "Luncheon: 4 ounces fish or lean meat or poultry, or 2/3 cup cottage cheese or pot cheese or 4 ounces farmer cheese or 2 ounces hard cheese or 2 eggs. All you want of unlimited vegetables. 1 slice bread."
As she confesses from the back cover: "Weight Watchers began when I invited to my house six overweight friends – have you ever noticed that most fat people have fat friends? – and much to the surprise of all of us we found that there were other people hiding cookies in the bathroom and eclairs in the oven."
By the end of the decade, Nidetch's new company — incorporating its famous food-points system and a methodology of daily calorie targets — would go worldwide. By 1972, Nidetch would invite 20,000 national devotees to a tenth anniversary party at Madison Square Garden, featuring guest appearances by Bob Hope and Pearl Bailey. (Ad below from Lubbock, TX, newspaper)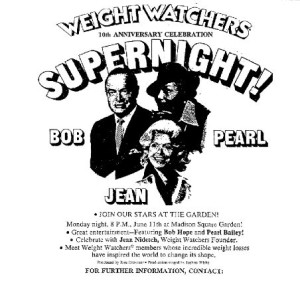 In 1978, Weight Watchers was acquired by the H.J. Heinz Company (which, in 'Mad Men' continuity, has been a most frustrating client for our favorite ad staff) who would mass produce Weight Watchers frozen foods.