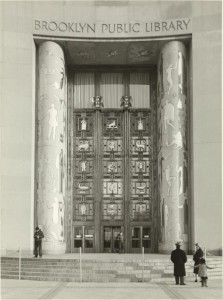 These doors just won a lot of grant money. (Photo by Wurts Brothers, NYPL)
The votes have been counted, and Brooklyn (more specifically, Park Slope) and the Bronx ran away with the Partners In Preservation initiative, sponsored by American Express and the National Trust for Historic Preservation.
The four locations which received the most votes were the Brooklyn Public Library central branch, the synagogue Congregation Beth Elohim, the New York Botanical Garden and the Bartow-Pell Mansion Museum.
But for the others, there's good news! The grant proposals for the top four don't even add up to $1 million, and the initiative will now determine how to distribute the remaining $2.1 million among the other finalists. They will announce the choices in June.
————————————-

I recorded an interview with Andrew Johnstone for the Podcast Squared show (essentially, it's a podcast about podcasts), discussing the philosophies behind the Bowery Boys: New York City History podcast, as well as some information on how we got started as a look behind the scenes at our process. They also give us a great review!
You can find the show (Episode #99: Golden Age of New York) on iTunes or download it directly from their website.
Or listen to some of it here:
——

Patell and Waterman's History of New York
Meanwhile, over at Patell and Waterman's History of New York, they've posted my wrap-up interview regarding the Networked New York event from March which was held at New York University. The questions are specifically focused on the relationship of history writing and new digital media, but I talk about the challenges of producing a podcast and the relationship between blogs and newspapers. Check out that interview here.
With the quote: "History enriches peoples' lives abstractly, of course, but I argue that it does so practically as well. It's about context. Your pizza tastes a whole lot better when you realize it's been made in New York's oldest pizza kitchen. (Whether it actually tastes good is besides the point.) This is the tourist perspective of New York. But to infuse that perspective into a daily experience here is profound. Suddenly, every street corner, every building, has a particular uniqueness. Everything talks back to you."