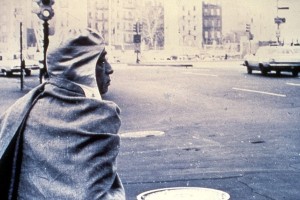 Prabhupada in his early days in New York (Courtesy the Hare Krishna Movement blog)
WARNING The article contains a couple spoilers about last night's 'Mad Men' on AMC. If you're a fan of the show, come back once you're watched the episode. But these posts are about a specific element of New York history from the 1960s and can be read even by those who don't watch the show at all. You can find other articles in this series here. 
An unusual subplot takes Harry Crane, Sterling Cooper Draper Pryce's smug television liaison, down to Second Avenue and the temple of the Hare Krishnas where he finds new recruit Paul Kinsey, a former agency employee. In his prior existence as a pipe-smoking gadabout, Kinsey always made note of his own hipness, and, in this case, as an acolyte of a religious thought only a few months old, we can confirm that he's ahead of the curve again.
The Hare Krishna movement, derived from Hindu philosophies and reformatted for the groovy '60s, was actually fostered and popularized here in the East Village.
A.C. Bhaktivedanta Swami Prabhupada, a Hindu teacher and proponent of Gaudiya Vaishnavism, left India in 1965 to spread his religious teaching. Eschewing material possessions, he arrived in New York in 1966 and gravitated towards the East Village, the nucleus of cultural counter-culture.
His reputation preceded him and soon gathered a small group of followers, including artist Harvey Cohen, who soon set up Prabhupada in an apartment on 72nd Street on the Upper West Side and a small studio for religious practice on the Bowery. From here the swami formed the core of what would become the Hare Krishna movement, aka the International Society of Krishna Consciousness.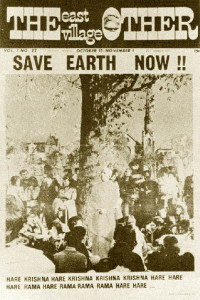 Given the location, most of his early followers were young people, fascinated by Hindu imagery in books and music and in particular by Prabhupada's expressions of religious thought, purifying secular consciousness expanding rhetoric into a simple spiritual regiment.
For many, he was as much a mystery as an answer. One early follower confessed later, "I didn't know what Prabhupada was about. I mean we understood about one-millionth of what Prabhupada was saying."
Key to religious practice is the ubiquitous mantra, rhythmically repeating the name of God. Said Prabhupada in a lecture in 2010. "[T]his sound, this Hare Krsna, Hare Krsna, Krsna Krsna, Hare Hare. Hare Rama, Hare Rama, Rama Rama, Hare Hare, is the sound representation of the Supreme Lord."
Prabhupada and his followers would frequently be heard chanting their familiar mantra throughout the East Village, but they would be known for one particular destination. On October 19, 1966, Prabhupada led an outdoor chant underneath a elm tree in Tompkins Square Park that lasted for almost two hours, so transcendent that even the New York Times took notice: 'Swami's Flock Chants in Park to Find Ecstasy.' Today that tree (called the Hare Krishna tree) is one of the park's most popular spots and a mecca for current adherents.
Above: From the late October issue of the East Village Other, in front of the  Hare Krishna tree [source]
By this time, Prabhupada had a new home, a former curio shop at 26 Second Avenue (between First and Second Streets). They kept the old sign 'Matchless Gifts' over door, while followers decorated the interior with handmade tapestries. This became the central New York temple and remains central to local worshippers to this day. "[I]n this small room on Second Avenue, guest found themselves transported into another dimension, a spiritual dimension, in which the anxieties and pressures of New York City simply did not exist." [source]
In that first year, 1966, Prabhupada had only a few dozen followers, but at least one famous one — Allen Ginsberg.


Below: Video of Prabhupada and followers at Tompkins Square Park in 1966