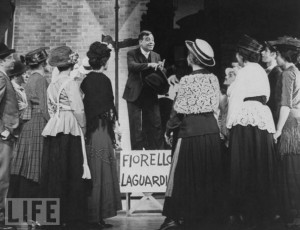 Tom Bosley in a Tony-winning performance as Mayor Fiorello LaGuardia, in 'Fiorello!', which tied for the Best Musical Tony in 1960 with 'The Sound of Music'. Only one of these productions is regularly produced by high schools across the country.
For those of you not watching the season finale of Mad Men this Sunday, the 66th Annual Tony Awards will be presented that evening at the Beacon Theatre. And among the nominees for Best Musical are the Prohibition-set 'Nice Work If You Can Get It', employing the music of the Gershwin brothers, and 'Newsies', a jovial romp depicting the Newsboys Strike of 1899. [Listen to our podcast for more information on this chaotic event which stopped the newspaper industry in its tracks that summer.]
These two shows may have an advantage over its competitors (Leap of Faith and Once) as the storylines are set within the history of New York City itself. Believe it or not, a total of 18 musicals at least partially set in New York have won the Best Musical Tony, and most of those are even placed in historical settings, proving both the endurance of the city as a source for storytellers and the insularity of the Broadway musical. (NOTE: I'm exempting the musical revues Ain't Misbehavin', Jerome Robbins' Broadway and Fosse from this total, as they are collected presentations from several older shows.)
That's almost one-third of ALL Best Musical Tony Award winners. The others, in order, are:
Guys And Dolls (Best Musical 1951) Set in the mid-century New York underworld, although inspired by stories written by Damon Runyon from the '20s and '30s
Wonderful Town (Best Musical 1953) Set in 1930s Greenwich Village, particularly along Christopher Street
Fiorello! (Best Musical 1960, tied — believe it or not — with The Sound of Music) Set partially during the administration of Mayor Fiorello LaGuardia, depicting his struggles, in song, against Tammany Hall
How To Succeed In Business Without Really Trying (Best Musical 1962) Set in the dog-eat-dog world of advertising in the 1950s
Hello Dolly! (Best Musical 1964) Set in the turn-of-the-century trappings of gilded era New York
Applause (Best Musical 1970) Set in the contemporary world of New York theater, although a musical version of 1950's All About Eve. Starring Tony winner Lauren Bacall (below).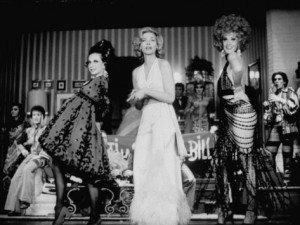 Company (Best Musical 1971) Set amidst a host of marriage strife in contemporary New York
A Chorus Line (Best Musical 1976) Set during the auditions of a contemporary Broadway way
Annie (Best Musical 1977) Set in 1930s Depression-era New York
42nd Street (Best Musical 1981)
Set during preparations for the fictitious 1933 musical Pretty Lady
And since the 1990s: The Will Rogers Follies (set in several places, but framed in a conversation with Florenz Ziegfeld) Crazy For You, Rent, Contact (1/3rd is set in 1950s New York), The Producers, Thoroughly Modern Millie, Avenue Q (an outer borough where puppets coincide with humans) and In the Heights
NOTE: Although Damn Yankees (Best Musical 1956) is in one sense about the New York Yankees (namely, how to defeat them), most of the action occurs in Washington DC.
Musical lovers: I just crunched through a lot of Tony Awards history here. So please email me with any clarifications or corrections! My memory of certain musical plot points might be a bit fuzzy.