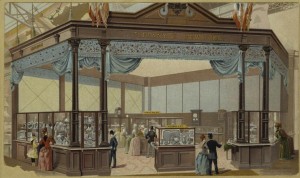 Charles Tiffany, the son of a Connecticut mill owner, borrowed one thousand dollars from his father one day and set out with his old classmate John Young to open 'a fancy goods and stationary store' at 259 Broadway (around the northern section of City Hall). On September 18, 1837, their little store Tiffany & Young opened their doors, displaying 'fancy articles and curiosities' and making a grand total of $4.98 on their first day.
Today Tiffany & Co. is celebrated as one of New York's oldest and most enduring businesses, moving up Manhattan with the rest of high society during the 19th century and cementing their reputation at their tony Union Square location at 15th Street (pictured above). It wasn't until 1940 that they moved to their present location on Fifth Avenue and 57th Street.
Celebrate the luxury jeweler and the Truman Capote story it inspired by digging into the Bowery Boys Archive. Episode 38 was a short history on both store and the film.
You can download it here #38: Breakfast at Tiffany & Co. Or go to iTunes and look for the Bowery Boys Archives. The original blog page with photographs can be found here.
Courtesy NYPL