There are still so many places throughout the city struggling in the aftermath of Hurricane Sandy. Many people in outlying regions are still without basic needs. In my post on Friday — A Snapshot of Hurricane Sandy — there's a list of charities and volunteer organizations where you can donate or volunteer. There's further information about volunteering opportunities at Occupy Sandy Relief.
Some of lower Manhattan's most historic structures have not gone unscathed. In particular dire straits is old Fraunces Tavern, the 18th century inn, Revolutionary War landmark and site of several early offices of the first American government. George Washington's farewell address to the Continental Army was given upstairs, and Alexander Hamilton, John Jay and Aaron Burr all worked and drank here.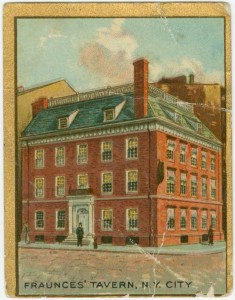 The tavern was originally built upon landfill and sits upon low-lying land, making it and other older surviving structures along Pearl Street very susceptible to sudden water surges from storms. (We spoke about its early history in our podcast on Fraunces Tavern from March 2011.)
According to their website: "As of November 6, 2012, Fraunces Tavern at 54 Pearl Street and the other four interconnected buildings that make-up Fraunces Tavern Restaurant and Museum are without electricity, heat, and phone service. Without electricity it is difficult to assess the full extent of damage, however, the storm surge flooded all five basements and caused about two feet of water damage to the above street level first floor.
From preliminary building walk-throughs it appears that all the upper floors came through the storm unharmed, including Museum spaces and rooms where the collection is stored.
All of the water has been pumped out and a team of experienced plumbers and electricians are on-site to bring Fraunces Tavern back on-line. In the meantime, a generator is planned to bring back power to critical areas by the end of the week. At this time, Fraunces Tavern's Board and staff members are unable to tell when full power, including phone lines, will be restored."
Other historic structures in this district, such as the Shrine of St. Elizabeth Ann Seton and the businesses along Stone Street and at One Hanover Square, probably saw similar if not greater damage.
If you'd like to help out the Frances Tavern Museum, you can visit their website and make a tax deductible gift. As for the other businesses of this area — the restaurants and pubs of Stone and Pearl streets — most are probably open with limited capacities. Go visit them and spend a little money there. I'm sure they would greatly appreciate it.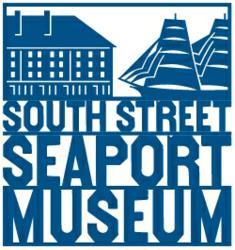 Meanwhile, the main building for South Street Seaport Museum also received extensive damage, as did the 18th century print shop Bowne & Co. As part of Schermerhorn Row, the buildings are almost as old as Fraunces Tavern. At greatest risk, however, were their collection of classic ships docked along the East River. But on that front, there's good news.
According to their Facebook page: "Our ships are largely unscathed thanks to extraordinary preparation by our waterfront staff and volunteers. Now, we are working hard to clean up our 200-year-old gallery building, Schermerhorn Row at 12 Fulton Street (half a block from the East River), and our 19th-century spaces around the corner on Water Street, all of which flooded."
You can help out to the museum by donating to their Hurricane Sandy relief fund. And if you can volunteer to help out the museum for an afternoon (12-4:30pm) this week, send an email to fkent@mcny.org and let them know!
Thanks to Kristin O'Connor Saslovsky on our Facebook page for forwarding me the information on Fraunces Tavern