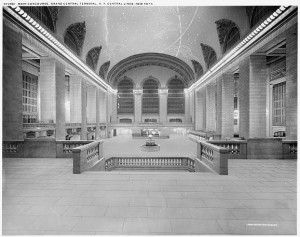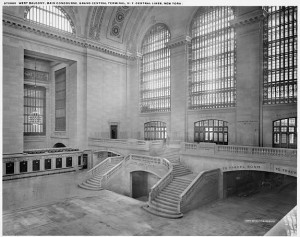 Above: Interior shots taken most likely before its opening on February 2, 1913
The Grand Central Terminal building turns one hundred years old this Saturday. It's perhaps New York's finest example of Beaux-Arts architecture and a landmark embedded into American culture. And thanks to film and photographs, Grand Central is unusual in that its interior is probably more recognizable to most non-New Yorkers than its exterior.
Here's a few ways to celebrate this special anniversary:
Party in the Terminal: This Friday, February 1st, the terminal itself will be decked out for its birthday, with all-day "exhibits, special offers, performances, notable speakers, surprise entertainment, photo opportunities and more," according to their website. They also hint at a "specially designed tribute" by Metro-North. If you're planning on using the terminal to go and from somewhere that day, you might want to get there early to enjoy some of the festivities.
It will also be the debut of "Grand By Design," an installation in the Vanderbilt Hall event space presenting the terminal's history.
Tour the Terminal: Every Wednesday, the Municipal Art Society sponsors a tour of the terminal, with docents leading groups through its 100 year history is about 75 minutes. Tours begin at 12:30pm, meet in front of Track 29 in the Main Concourse and have a suggested donation of $10. More information at their website.
Eat and Shop: On February 1st, many shops and restaurants in Grand Central will sell their wares at "1913 prices," including ten-cent scoops of gelato, shoeshines for a dime, and the "75 cent Adirondack cocktail" at the steak house named for Michael Jordan. And if that's even too expensive, Carvel will be giving out hundreds of free ice-cream sandwiches from 2-6pm.
Read about the Commodore: My favorite biography from 2010 was T.J. Stile's captivating story "The First Tycoon: The Epic Life of Cornelius Vanderbilt" charting Vanderbilt's journey from the shores of Staten Island as a ferry operator to America's most ruthless transportation mogul. What's interesting is the almost accidental way in which Vanderbilt got into the railroad business having spent most of his career dominated the waters of New York.
There are also two new books about Grand Central itself: "Grand Central: How a Train Station Transformed America," co-written by Sam Roberts and Pete Hamill, and "Grand Central Terminal: 100 Years of a New York Landmark" by Anthony W. Robins and the NY Transit Museum.
Listen to our podcast: Download our history of Grand Central here (Episode #45) or you can find it on iTunes. It's in our second podcast feed of older episodes — NYC History: Bowery Boys Archives.
Here's the original blog page for our Grand Central podcast, with many more additional photograph.